Dr. Harold Jones Ebersole
Posted
Dr. Harold Jones Ebersole, 85, passed away January 26, peacefully in his sleep at Lebanon Valley Brethren Home, Palmyra.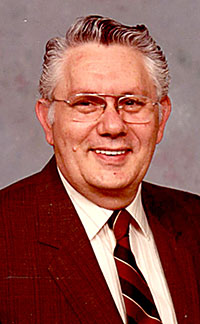 He was born October 20, 1928 in Hershey Hospital on his mother's birthday, the son of the late Chester M. Ebersole and Kathryn Jones Ebersole.


Harold was a lifelong resident of Hummelstown, graduating from Hummelstown High School in 1946, Elizabethtown College in 1950 and Temple Dental School in 1954 with a degree of Doctor of Dental Surgery. He served as a dental officer in the U.S. Navy during the Korean Conflict, stationed in San Diego, Calif. He had a private dental practice in Highspire for 40 years. Even now, 20 years after retirement, former patients still inquire about him, remembering his kind and gentle nature.
He was a member of several honorary dental societies and a life member of the Hummelstown Historical Society, Hershey Dental Study Group, American Dental Association, PA Dental Society, Lincoln Continental Owners Club, Highspire Lions Club, and a big supporter of many charitable organizations. He was the school dentist for Lower Dauphin elementary schools and the Steelton-Highspire school system, a member of the Lower Dauphin School Board, serving a term as president, a founding member of the Lebanon Valley Brethren Home, serving on the Board of Directors for 12 years. Harold also appeared on TV's "Miss Marsha's Romper Room" during Dental Health Week for several years. A lifelong member of Spring Creek Church of the Brethren, he served on various committees and as moderator, deacon and Sunday school teacher.


He had a special fondness for trains, coins, and antique cars. Many remember him driving Mayor Alexander and various speakers in the Hummelstown Memorial Day parades in his black 1966 Lincoln Continental convertible for 20 years. He and his wife built their home and lived at the corner of Lincoln and Landis streets in Hummelstown for 39 years, moving to Lebanon Valley Brethren Home in 2007.


He'll best be remembered for his gentle nature and his love for his family and fellow man. A news reporter once referred to him as a "soft spoken dentist" and he touched many lives with his kindness and thoughtfulness.


He was preceded in death by two brothers John J. and Chester J. Ebersole.


He is survived by his wife of 62 years Beulah Barnthouse Ebersole; three children Jeffrey (Beth), Bruce, and Amy Langer; three grandchildren Sam, Jeremy, and Kristen (Adam Snoke); his sister Dorothy Burridge; and many nieces and nephews.


Funeral services were held at his church on Saturday.


In lieu of flowers, memorial contributions can be made to Spring Creek Church of the Brethren, 335 East Areba Ave., Hershey, PA 17033; or any charity of your choice.
Arrangements by Trefz & Bowser Funeral Home, Inc., Hummelstown.


Online condolences may be shared at www.trefzandbowser.com.