Dorothy Winters
Posted
Dorothy M. Winters, 74, of Middletown, died at home on Saturday, February 1, surrounded by her loving family.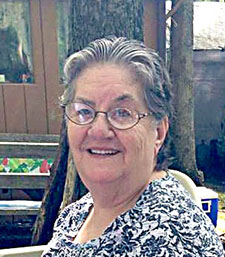 She was the daughter of the late Horace B. Tatem Sr. and Martha Manfred Tatem of Middletown.


Dottie enjoyed her grandchildren and great-grandchildren, and spending time at their family camp in Clinton County. She also enjoyed gardening, canning vegetables, crocheting, playing cards, assembling jigsaw puzzles and playing bingo with her family. Her favorite hobby was collecting salt and pepper shakers.
Her brother, Horace B. "Sonny" Tatem Jr., husband of Shirley, of Middletown, passed away in November 2013.


She is survived by her husband of 56 years, Ronald G. Winters Sr.; two daughters Debra K. Paulsen, wife of Troy Paulsen of Elizabethtown, and Tammy M. Dobbins, wife of Lauris Dobbins of Manteca, Calif.; six grandchildren David Eagle Jr., Kayla Hofmann, Matt Paulsen, Jason Dobbins, Jeremy Dobbins, and Jenny Dobbins; six great-grandchildren Dylan Eagle, Britney Ketner, Brayden Ketner, Tyler Dobbins, Emiliano Gomez, and Evelynn Gomez; five sisters Mary K. Houser, wife of Frank Houser, Evelyn M. O'Donnell, widow of Robert O'Donnell, Darlene M. Hemperly, wife of Charles Hemperly, and Cindy L. Lines, wife of David Lines, all of Middletown, and Kay L. Balchunas, wife of Ralph Balchunas of Bainbridge; and one brother Gerald E. Tatem, husband of Martha Tatem of Dillsburg.


No immediate services have been planned by the family.


They wish to take this opportunity to thank their family and friends for their loving support, comfort, and especially their prayers during Dottie's illness, and special thanks to the Hospice of Central Pennsylvania staff for their devotion to Dottie's care.


In lieu of flowers, memorial contributions can be made in Dorothy's memory to Hospice of Central Pennsylvania, 1320 Linglestown Rd., Harrisburg, PA 17110.