Dennis Shank
Posted
Dennis K. Shank, 67, of Carlisle, died Saturday, July 11, 2015 at Carlisle Regional Medical Center surrounded by his loving family.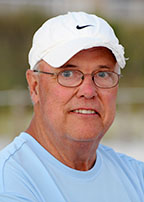 He was born in Harrisburg on March 20, 1948 to the late Russell P. and Betty L. Daniels Shank.
He was a graduate of Middletown Area High School, Class of 1966, where he excelled in baseball, basketball and football. He was awarded a football scholarship to Delaware Valley College where he graduated with a business degree in 1970. He was most proud of the headline: "Shank's the Name, Running's the Game." He was retired from Roadway Trucking Company after 35 years of service in management. He remained a consultant for a few years beyond retirement until deciding to enjoy living in both Florida and Pennsylvania. He was an avid golfer and had two hole-in-ones in the same year. He had been a member of the FBM Navy Golf League, the Men's League in Florida and a special group of friends league in Pennsylvania. Dennis and his wife Dara both enjoyed their Wednesday couples league.
Denny was a member of Carlisle United Methodist Church, where he previously served as usher and on the Pastor Parish Relations Committee. In Florida, he attended the New Covenant United Methodist Church.
He was preceded in death by his brother-in-law Jay McGrath.
He is survived by his high school sweetheart and loving wife of almost 44 years, Dara McGrath Shank and their son, Brett D. and wife Erin Shank and the pride and joy of his life, their children Calum, Emmett, Willa and Abram Shank of St. Louis, Mo. He is also survived by his brother Thomas and wife Lynn Shank of Middletown; his aunt Shirley and husband Donald Manning of Annville; cousins Greg, Tyler, and Donald and wife Cindy Manning; and several nieces and nephews.

Celebration of Life services will be held at 11 a.m. on Saturday, July 25, 2015 at Carlisle United Methodist Church, 45 S. West St., Carlisle, Pa., with the Rev. James E. VanZandt officiating.
A private interment will follow the services at the convenience of the family.
The family requests that memorial contributions may be made to the charity of your choice.
Hoffman-Roth Funeral Home & Crematory, Inc., 219 N. Hanover St., Carlisle is handling the arrangements. To sign the guestbook, please visit www.hoffmanroth.com.