Comeback: Raiders split games at Hershey tournament
Posted 12/31/12
By Jim LewisPress And Journal Staff
The Middletown girls' basketball team shook off a loss to a strong Gettysburg team in the first game of Hershey's Holiday Tournament to beat Penn Manor in the consolation game and claim third place.
Comeback: Raiders split games at Hershey tournament
Posted

The Blue Raiders (5-4) defeated Penn Manor, 54-38 on Friday, Dec. 28 at Hershey High School, with freshman Jalynn Burton-Jones scoring a season-high 32 points for Middletown, canning 12 field goals and 8 of 12 foul shots.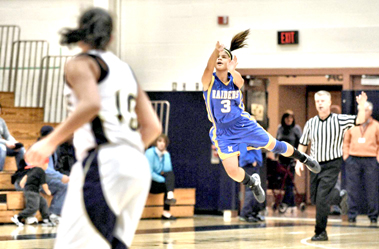 Photo by Bill Darrah

Jeyy Rivera, a sophomore, added 8 points, while Halle Marion, another sophomore, added 7. Jada Pettis scored 4 points and Sarah Crippen scored 3 for the Raiders.

Ilisha Collazo led the Rams (3-6) with 11 points.

The Raiders ran to a 26-15 lead at halftime, then put the game away with a strong third quarter, outscoring Penn Manor 16-7 to take a commanding 42-22 lead into the fourth quarter.

Middletown lost the opening game of the tournament, 61-32, to Gettysburg on Thursday, Dec. 27.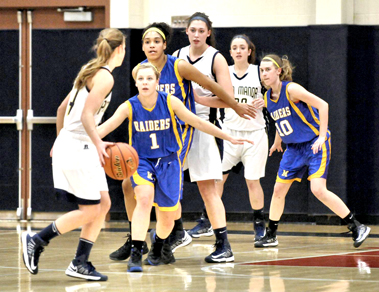 Photo by Bill Darrah Middletown's Halle Marion (1), Jada Pettis (back) and Sarah Crippen (10) defend against the Penn Manor offense in the Raiders' victory at Hershey.The Greyhounds' Cami Boehner scored a season-high 28 points, including four 3-pointers, to lead Gettysburg (8-2) to victory.
Rivera led Middletown with 11 points, while Crippen scored 8 and Burton-Jones added 6.

The Raiders return home to host Greencastle-Antrim at 6:30 p.m. on Wednesday, Jan. 2 before hosting a big game in the Mid-Penn Conference Capital Division against unbeaten Steelton-Highspire at 7:30 p.m. on Friday, Jan. 4 at Middletown Area High School.