Clyde Lingle
Posted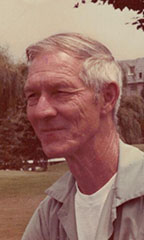 Clyde A. Lingle, 94, formerly of Middletown, entered into rest on Monday, July 13, 2015 at Masonic Village, Elizabethtown.
He was born in Harrisburg on March 12, 1921 and was the son of the late Abner and Florence McCann Lingle.
Clyde was a member of Faith Outreach Center Church, Middletown. He was a maintenance foremen at the former Olmsted Air Force Base, Middletown, and a former groundskeeper at The Hershey Lodge. He was a compassionate and kind gentleman, who put his family and friends above himself. He was a World War II Army veteran, serving his country proudly. With his friends surrounded, he was the happiest, playing pinochle, pitching horseshoes, watching John Wayne westerns and was an avid Phillies fan.
In addition to his parents, he was preceded in death by his loving wife Mildred Gainer Lingle on November 23, 2003, his son Steven L. Lingle on November 19, 1994, brother Marlin Lingle, and sisters Lois Douglas and Marilyn Lingle.
Clyde is survived by his devoted caregivers Earl S. and April R. Fuhrman, with whom he lived: two brothers Larry D., husband of Mary Lingle, and Glenn Lingle of Middletown.
A memorial tribute will be held on Saturday, August 1, 2015 at 11 a.m. at the home of Glenn Lingle, 1681 Round Top Rd., Middletown, with his Pastor Jack R. Sipe, officiating.
Visitation will be Saturday from 10 a.m. until the time of the service.
Inurnment with military honors by Dauphin County Honor Guard will follow at Hillsdale Cemetery, Londonderry Township.
The family has entrusted the Matinchek & Daughter Funeral Home and Cremation Services, Inc., Middletown to handle the funeral arrangements.
Condolences may be sent online at www.matinchekanddaughterfuneralhome.com.

{jcomments on}