Cashier's hunch may have stopped robbery
Posted 7/9/13
Always go with your gut. That stirring feeling – call it a hunch– led a Turkey Hill cashier in Oberlin to lock the doors. She just may have prevented a robbery, and maybe even saved her life.It was a normal night for a cashier working the …
Cashier's hunch may have stopped robbery
Posted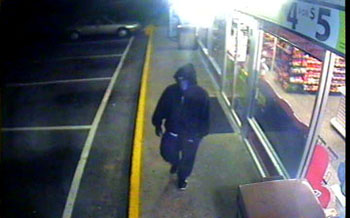 She received a phone call asking when the store was closing, and if "a particular drink machine was still turned on," according to police.

The call was out of place, odd enough to alert the cashier to lock the doors.

Not long after, a man carrying what appeared to be a handgun approached the doors. His face was covered by blue material. He tried to get into the store.

The locks were enough to deter him, and he fled the area on foot.

Police were called in around 12:05 a.m., but were unable to locate him.

On Friday, July 5, around 12:26 a.m., police were called to the store again. The man reappeared – only this time, he didn't leave empty handed, police said.

A woman told police she was in her vehicle in the parking lot when a man wearing a black hooded sweatshirt, blue bandanna and light jeans approached her vehicle.

He showed a gun, and demanded her purse and money before fleeing on foot.

The man matches the description of the male in the possible attempted robbery three days before, police said.

Anyone with information about the incident is asked to contact Swatara Twp. police detective Jim Moyer at 717-564-2550. Tips can also be submitted to www.SwataraPolice.org.

Noelle Barrett: 717-944-4628, or noellebarrett@pressandjournal.com{jcomments on}