Carl Gruber
Posted

Carl E. Gruber "Curly," 87, of Middletown, entered into eternal rest suddenly on Tuesday, January 28, at his home.


He was born on November 30, 1926 in Middletown and was the son of the late Samuel F. Sr. and Elizabeth Snavely Gruber.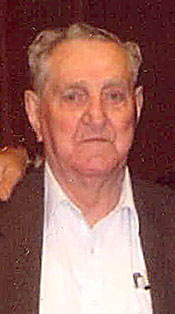 He was a member of Evangelical United Methodist Church, American Legion Post 594, and VFW Post 1620, all of Middletown; he served his country in the United States Navy in World War II in both the Atlantic and Pacific Theaters; was retired from the Mechanicsburg Naval Depot where he was a railroad engineer; he was a graduate of Middletown Area High School class of 1945; and he enjoyed fishing, hunting, gardening, and was an avid Middletown Blue Raiders sports fan and for many years held season tickets to both football and basketball games.
In addition to his parents, Curly was preceded in death by his loving wife Dorothy I. Gruber, five brothers, Earl, Samuel Jr., Walter, Raymond and Melvin Gruber, and four sisters Helen Samuels, Pauline Borlish, Goldie Reber, and Viola Nelson.


He is survived by his sister Mary L. Lehman of Middletown; numerous nieces and nephews; and many friends.


A Tribute to his life was held on Monday at his church, with the Rev. Robert Graybill officiating.


Interment with military honors was at Indiantown Gap National Cemetery.


Arrangements by Matinchek & Daughter Funeral Home and Cremation Services, Middletown.


Memorial contributions may be made to Evangelical United Methodist Church, 157 E. Water St., Middletown, PA 17057.


Condolences may be sent online at www.matinchekanddaughterfuneralhome.com.