Buzzer-beaten: Falcon comeback fails on last-second shot
Posted 1/29/13
By Noelle BarrettPress And Journal Staff
A week of disappointing losses for Lower Dauphin ended on a sour note with a close loss against Palmyra on Saturday, Jan. 26 in Palmyra.The Falcons (11-8, 7-7 in the Mid-Penn Conference's Keystone …
Buzzer-beaten: Falcon comeback fails on last-second shot
Posted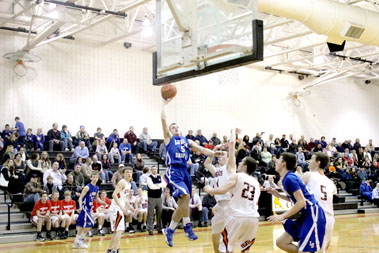 The Falcons remained determined, tightening the gap in the last 8:00 of the game. Lower Dauphin overpowered Palmyra, outscoring the Cougars by a 2-to-1 ratio, but the team was not able to overcome early mistakes.

It seemed like Lower Dauphin was continuously playing catch-up. Even though the Falcons kept it close in the first quarter, tying the game three times, Palmyra was able to get ahead, ending the first 8:00 with a 16-12 lead.

Lower Dauphin saw some high points in the second period. As Palmyra took a 21-14 lead, Kaylor Kulina hit 3 points and it looked as though the Falcons would come back. With a free throw by Luke Rutledge and a basket by Tommy Bowen, Lower Dauphin trailed by just 1 point. Rutledge then hit a basket to put the Falcons ahead, 22-21.

Palmyra came back and took the lead as quickly as the Falcons had it, and ended the half leading 31-26.
---

The Falcons fell apart in the third quarter, with missed shots and a technical foul against Coach Mark Hofsass giving the Cougars opportunity to score. With only a 3-pointer by Rutledge, a basket each from Ryan Naccarato and Matt Seip, and only hitting 3 of 6 free throws, the Falcons only scored 10 points in the third to Palmyra's 16.

Lower Dauphin trailed Palmyra, 47-36 going into the fourth quarter, but the Falcons became a scoring powerhouse. Both teams put up points in the first three minutes, but the Cougars maintained a 13-point lead.

With 5:07 left in the game, the Falcons were down, 54-41, but became unstoppable. Rutledge sank a basket, and Bowen added two free throws to make the score 54-45. Both teams made mistakes, with missed shots and Lower Dauphin throwing the ball out of bounds, but a foul against Palmyra put the Falcons back on their scoring streak.

Naccarato added a free throw and Rutledge and Colten Nagy added a basket, to close in on the Falcons lead, 54-51. With 1:02 left in the game, Kulina saw opportunity, hitting a shot from behind the 3-point line to tie the game, 54-54.

With 30 seconds left, Palmyra took the ball up the court, and the clock wound down. In the final seconds, Shaun Robinson missed a shot, but Stovall rebounded and hit a quick shot as the buzzer rang.

Noelle Barrett: 717-944-4628, or noellebarrett@pressandjournal.com