Art in a can: He uses spray paint to create landscapes as colorful as his life.
Posted 12/4/12
This is a story about a guy named Joe. Just Joe. He came from New York, the city that never sleeps – a place where artistic talent fills the streets. One day in 1998, Joe was struck with inspiration by a man on the sidewalk who was using spray …
Art in a can: He uses spray paint to create landscapes as colorful as his life.
Posted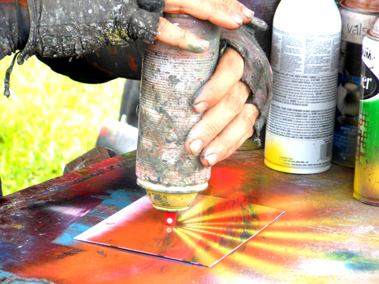 Photo by Noelle Barrett- Artist Joe, above, creates a radiant sun by turning a can of paint upside down.Joe doesn't go by just "Joe'' anymore. Today he is known as Artist Joe, and travels to college campuses and other venues to share his spray paint art. He visited Penn State Harrisburg in October, and painted scenes as impressive as the story of how he got there.
While recovering from his near-death experience from the lightning strike, Joe thought about that man he saw making art using only spray paint, some lids, and a putty knife.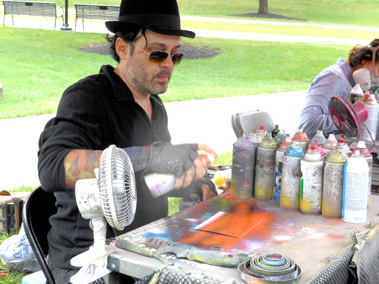 Photos by Noelle Barrett- Artist Joe, above, paints with spray paint at Penn State Harrisburg. He travels across the country to share his technique at college campuses.
"I said, 'God, I wish I could do that,' " said Joe.
Those words kept playing over and over in his head, until he finally decided to try painting. It wasn't something that came naturally, but something he enjoyed and wanted to work on to get better.
To say it was difficult is an understatement.
"It took about six months before I did a painting I liked," he said.
But Joe kept at it.
He left New York for the sunny state of Florida, where he teamed up with other artists interested in spray paint art and entertaining crowds.
Joe trains the artists on different techniques, things he learned and stumbled across while painting.
"It's just a matter of trial and error," he said. "I don't use paintbrushes or more traditional things."
Instead, Joe makes leaves with the end of a plastic grocery bag, planets with paint lids, or the sun by turning the spray paint can upside down and spraying in a circular motion.
A collection of spray paint cans used by Artist Joe.The artist works quickly, finishing a picture on a 5-by-7-inch sheet of glossy paper within three to five minutes.
The finished product depicts anything from landscapes to space scenes, and everything in between.
Joe has been visiting colleges for about 13 years, but said longer shows are exhausting to do alone.
During Joe's visit to Penn State Harrisburg, he brought along Stockholm Filly, who was inspired by Joe's work to start painting.
"He showed me some of his work, and I really wanted to learn how to do it," she said.
The show in Middletown was only Filly's third. She started learning spray paint art just the week before, and didn't have a background in art.
"I just learned how to make mountains, and that's pretty cool," she said.
Penn State Harrisburg students watched the artists in awe, some taking pictures and video on cell phones, others waiting in line during the rain, hoping to take home a piece of Joe's art.
Jessica Yohn, a freshman from Korea, received a landscape with mountains and a sea from Artist Joe.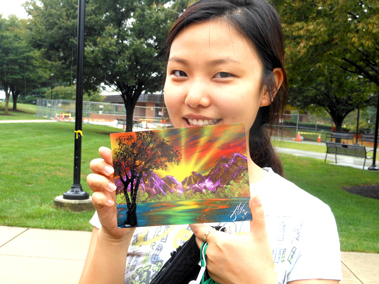 Jessica Yohn, a freshman at Penn State Harrisburg, below, holds a painting by Artist Joe that he gave to her during his presentation.

"They're awesome and amazing,'' said Yohn.
The reaction by the students is the artists' favorite part, they said.
"It's them. The people and the reactions are really nice," said Joe. "I also love it when boredom leads me to a place where I can create something I've never done before."
Noelle Barrett: 717-944-4628, or noellebarrett@pressandjournal.com