Annabelle Ridley
Posted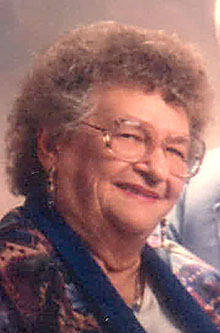 Annabelle Ridley, 85, formerly of Royalton, entered into the arms of her Heavenly Father on Saturday, January 11, at Middletown Home, Middletown.
She was born on June 11, 1928 in Middletown and was the daughter of the late Raymond and Margaret Fallinger Arndt.


She was a charter member of Open Door Bible Church where she was a faithful and devoted member.


In addition to her parents she was preceded in death by her loving husband Samuel J. Ridley, and sister Nancy Salazar.


She is survived by her sister Doris Jean Porr of Royalton; one aunt Lucille Dimeler of Middletown; and numerous nieces and nephews.


A Tribute to her life will be held at 11 a.m. on Thursday, January 16, at her church, 200 Nissley Drive, Middletown, with the Rev. Jonathan Tillman, her pastor officiating.


Burial will be in Hillsdale Cemetery. A luncheon will be at the church immediately following the burial.


Viewing will be from 10 a.m. until time of service on Thursday at her church.


Arrangements are being handled by Matinchek and Daughter Funeral Home and Cremation Services, Middletown.


Condolences may be sent online at www.matinchekanddaughterfuneralhome.com.