Andrew Welkie
Posted
Andrew Eugene Welkie, 83, of Coopersburg, passed away on January 18, after a brief illness, at Lehigh Valley Hospital in Allentown.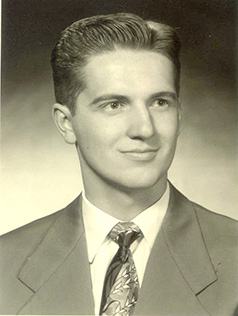 The son of the late Andrew and Susan Zaperich Welkie, he was born in Hazleton on August 29, 1930.


He graduated from Hazleton High School in 1947. He obtained a bachelor of science degree from Pennsylvania State University in 1951, and a doctorate of dental surgery from the Temple School of Dentistry in 1955. He served in the United States Army from 1955 to 1963, retiring as a captain. He then practiced family dentistry in Middletown for almost 40 years.


Andrew was an avid Penn State fan, and loved watching college basketball and football. He enjoyed thoroughbred racing and playing poker as well.


He was preceded in death by his wife of 50 years, Marguerite McGreevy Welkie, and his brother Dave Welkie.


He is survived by his sister Florence Welkie Yandroski; son and daughter-in-law Andrew and Jan Welkie of Middletown, son James Welkie of Philadelphia, and son and daughter-in-law John and Regina Welkie of Coopersburg; and seven grandchildren.


Mass of Christian Burial will be held at 11 a.m. on Friday, January 24, at Seven Sorrows of the Blessed Virgin Mary Catholic Church, 280 N. Race St., Middletown, with the Rev. Ted Keating as celebrant.


Burial with military honors will be at Indiantown Gap National Cemetery.


Viewing will be from 10 a.m. until time of service on Friday in the narthex of the church.


Arrangements by Matinchek and Daughter Funeral Home and Cremation Services, Inc., Middletown.


Condolences may be sent online at www.matinchekanddaughterfuneralhome.com.