Alberta Groves
Posted

Alberta R. Groves, 83, of Harrisburg, entered into eternal rest on Monday, January 13, at Holy Spirit Hospital, Camp Hill.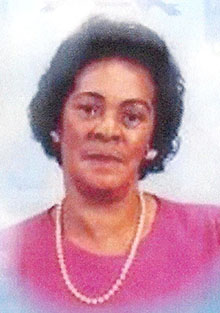 She was born on June 8, 1930 in Clarke County, Va. and was the daughter of the late Clara Lewis.


She was a Pittsburgh Steelers football fan, and enjoyed game shows, getting her hair done and going to church, but her greatest joy came from the love she received from her family, especially her grandchildren.


She was a member of Grace and Mercy Church, Middletown, and a former member and usher of the First Zion Church, Middletown. She was also a member of the Red Hat Ladies.


In addition to her mother, Alberta was preceded in death by her husband Thomas Groves Sr. and her son Thomas Groves Jr.


She is survived by her daughter Bertina Groves-Williamson of Harrisburg; two sons Bruce Groves of Clinton Twp., Mich., and Robert, husband of Lori Groves of Fayetteville, Ga.; five grandchildren; two great-grandchildren; and numerous nieces, nephews and family and friends.


A Tribute to her life was held on Saturday at her church, with the Rev. Florence Abdulah officiating.


Burial was at the convenience of the family. Memorial contributions may be made to the family to help defray the funeral expense.


Arrangements by Matinchek and Daughter Funeral Home and Cremation Services, Middletown.


Condolences may be sent online at www.matinchekanddaughterfuneralhome.com.