23 Years Ago: Jan. 25, 2017
Posted 1/25/17
Gotta Keep A Sense Of Humor – It's good to know that at least one snow remover from Middletown kept his or her sense of humor while moving the white stuff from one place to another. Or could this be a neighbor that tried to swipe a shoveled out …
23 Years Ago: Jan. 25, 2017
Posted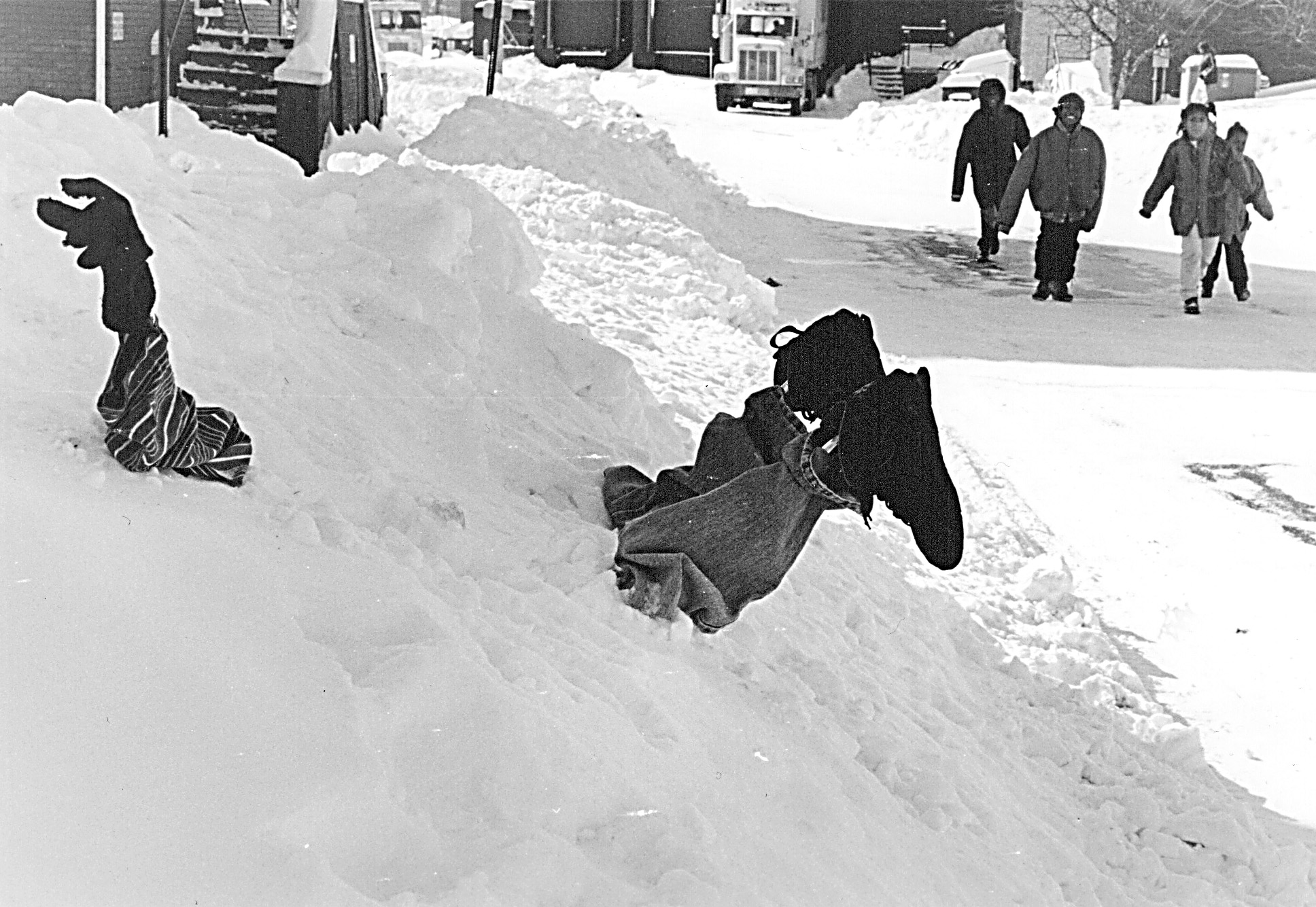 Gotta Keep A Sense Of Humor – It's good to know that at least one snow remover from Middletown kept his or her sense of humor while moving the white stuff from one place to another. Or could this be a neighbor that tried to swipe a shoveled out parking space?
From the Wednesday, Jan. 26, 1994 edition of the Press And Journal
Workers Save Jednota Printery Roof
A small platoon of workmen laboring in bitter cold weather last Thursday and Friday managed to save the roof of the Jednota Printery building in Lower Swatara Township, but roofs on several other industrial and commercial buildings in the area collapsed under the accumulating weight of melting snow and ice.
A crew of about 15 workmen with snow blowers and shovels spent a total of 17 hours in frigid temperatures removing an estimated 75 tons of snow from the roof of Jednota's Printery building on Rosedale Avenue. Meanwhile, most of the plant's 23 employees had to be evacuated from the building because of management's concern that the roof was in danger of collapsing.
Joseph Krajsa, plant manager, said he and other members of the staff found wall cracks and sagging ceiling tiles early last Tuesday that led them to conclude that the roof of the 28,000-square-foot building was in danger of collapsing.
"It appeared to us that something would have to be done quickly if we hoped to save the roof," Krajsa related. "The problem was that we weren't quite sure how to proceed."
Krajsa said a structural engineer called in to examine the roof confirmed those fears. He concluded that the roof would probably fail unless some of the estimated 75 tons of snow and ice was removed as soon as possible.
Krajsa said he immediately called Shane Contracting Company and Rich Hoffman, both Middletown area contractors. Workmen with the two firms labored nine hours on Thursday and another eight hours on Friday in the bone chilling cold that ranged from 1 degree below zero to 13 degrees above zero before the engineer declared that the roof was no longer in danger of collapsing.
NO More Snow!!
Take two aspirins, go to bed and set the alarm for spring. That is probably what many municipal workers and officials would like to do. Plus, pray that there is NO MORE SNOW!
Certainly, those on the receiving end of local government services, citizens, have their share of "snowstorm" headaches – digging out cars, dealing with frozen water pipes and deactivating "no-school ecstatic" children.
But what about those on the providing end of services? What have their headaches been like?
Last Wednesday the snow removal began in many area municipalities. "It will continue until emergency routes are cleared," said Middletown Council President Barbara Layne.
Layne reported fire trucks were out in Middletown, but not for fires, rather to ask via loudspeakers, residents and businesses to cut back their electrical power usage.
According to Middletown electrical supervisor Tom Hanley, within four hours usage dropped about nine percent and was still below the pre-storm usage as of Friday. "The community is to be commended," Layne said.
The phones lit up like fireworks. Layne said she and Councilwoman Nancy Taxweiler helped field calls coming into the Emergency Operations Center (EOC) on Wednesday.
On Tuesday, Middletown had declared the Borough to be in a state of emergency, prohibiting all motor vehicle travel so snow plowing could proceed uninterrupted. The emergency was lifted Wednesday.
Lower Swatara Seeks Stipulations For Land Development
With much of the mid-state tied up in knots by the onslaught of the arctic-like conditions of the past week, the Lower Swatara Township Board of Commissioners also found itself frozen regarding a project that could add 350 to 500 jobs to the area.
Before the Board at its meeting last week was the land development plan of Watkins Motor Lines for a 30-acre site located along North Union Street north of Fulling Mill Road. The plan, prepared by Benatee Associates, was recommended for approval by the Township's Planning Commission on December 16, 1993 with stipulations.
It was the Planning Commission's stipulations that proved to be the sticking points for the Board that ended in a 2-2-deadlock vote on the plan. The Board did not want to set a precedent for other developers, while Watkins contended that most of the stipulations had been addressed.
In August, the Board first heard of the proposed truck terminal that could eventually lead to the creation of 350 to 500 jobs in the Township. Lance R. Collins, director of real estate for Watkins Motor Lines, Inc., led a team presentation before the Township officials.
At the August meeting, Collins estimated that a tax base between $6 million and $7 million would be created if the terminal becomes a reality. He also added it would be attractive to manufacturers and distribution facilities in addition to providing improved service to local businesses and consumers.
In November, the Board approved the preliminary final subdivision of the land for the proposed terminal located along N. Union St., 800 feet north of the intersection with Fulling Mill Road. The plan was approved with stipulations that included the conditional approval of a planning module by the state Department of Environmental Resources (DER).
Prices From 23 Years Ago
Country Swiss Cheese, $3.59/lb.
Fox's Chicken Pot Pie, 99¢/lb.
Dannon Vanilla Yogurt 32 oz, 2/$3
French Bread 19 oz., 89¢
Peanut Butter Iced Cinnamon Buns, 6 ct., $1.89
Veal Chops, $2.49/lb.
Jumbo Roasted Peanuts, $1.39/lb.
Snow White Mushrooms 12 oz. pkg., $1.29
Weaver Buffalo Wings 18 oz. pkg., $3.15
J&J Pretzels 14 oz. pkg., $1.25
Super Bowl Cakes, $3.99/each