23 Years Ago: Jan. 18, 2017
Posted 1/18/17
Fox's 'Save And Share' Comes Through — Bill Fox (left), vice president of Fox's Markets, recently presented a "Save and Share" rebate check to Rev. Tom Sanagorski (right) of Geyers United Methodist Church, Londonderry Township. The …
23 Years Ago: Jan. 18, 2017
Posted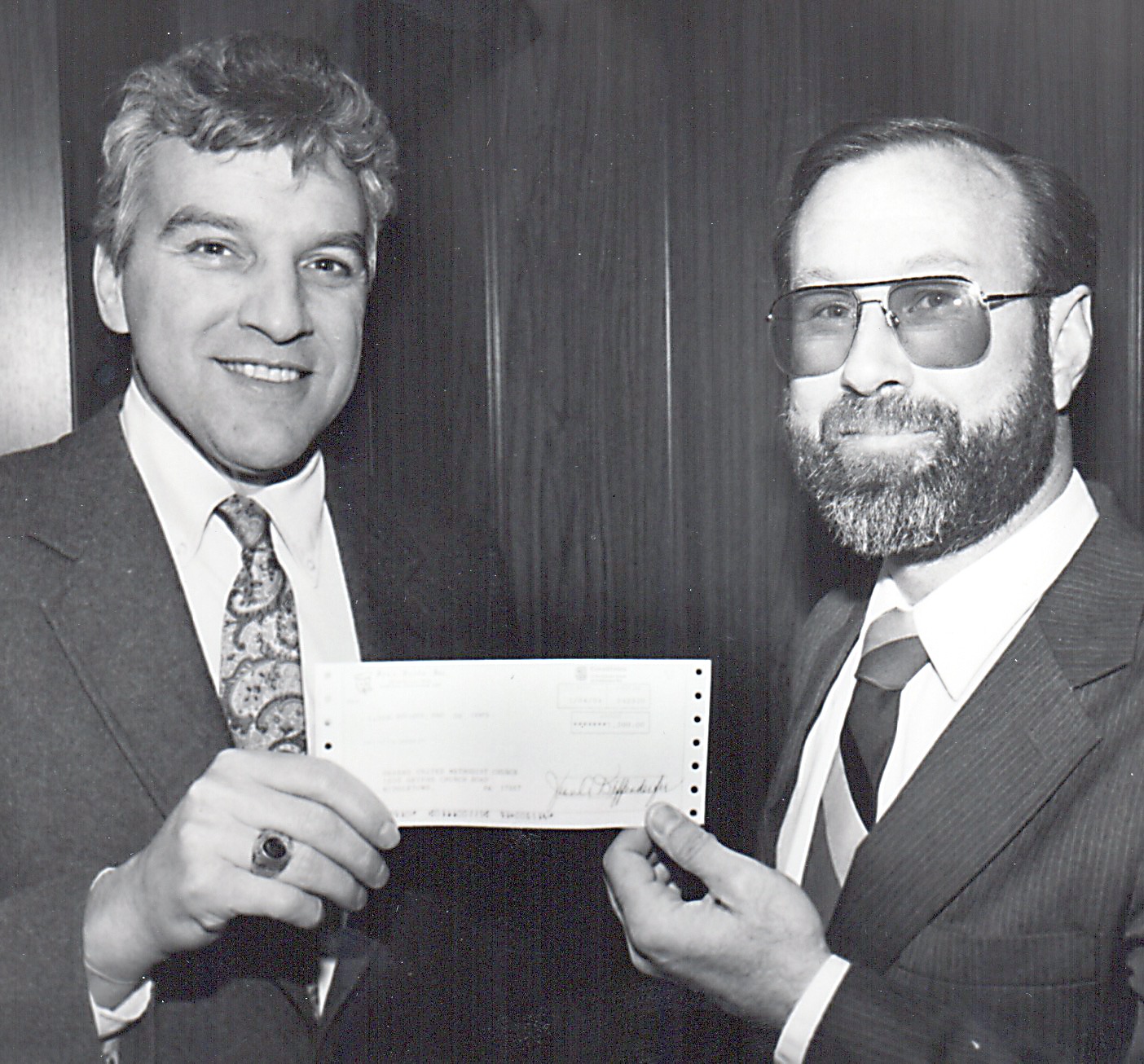 Fox's 'Save And Share' Comes Through — Bill Fox (left), vice president of Fox's Markets, recently presented a "Save and Share" rebate check to Rev. Tom Sanagorski (right) of Geyers United Methodist Church, Londonderry Township. The money was raised by members of the church and other local residents to assist with the medical bills of Tom's wife Linda, who is still recovering from an October 1992 vehicle accident. The "Save and Share" program, launched by Fox's Markets last year, raises money for organizations by providing a 1 percent cash rebate on register receipts that are saved by customers and then redeemed at the store.
From The Wednesday, Jan. 19, 1994 Edition Of The Press And Journal
Local Companies Fighting Recession, Still Treating Customers As Number 1
If you think you've been having a tough go of it lately, managing a household during our country's latest economic recession, imagine what it must be like to run a business – and to keep your head above water while doing so.
While most of the following business owners and managers express optimism about profit and sales in 1994, they prove that nurturing a positive outlook and gritty determination factor as strongly as luck in the road to success – along with treating customers right.
Service is Everything: Middletown is the home base of Fox's Markets, which also houses stores in Hershey, the Point Mall and Cedar Cliff. The store's edge against larger supermarket chains appears to be a friendly, personal attitude that its staff transmits toward customers. "We offer good service, quality and freshness," described Bill Fox, president of Fox's Markets.
Chuck Kray, part owner and president of Rhoads' Pharmacies, echoes Fox's thoughts about providing quality and personal service to customers as a cutting edge against larger competitors. "Some people might only be price conscious, but we will not compromise our service," he said. Like many larger drug stores and supermarkets, the stores now carry a generic-type line of products to compete against higher-priced name brands.
Tight Economy Beneficial?: In some ways a tight economy can be beneficial for Carter Lumber Elizabethtown, according to Jeff Flowers, the 12-year store manager. "There is an increase in business when the economy gets tight," he noted. "We have a lot more do-it-yourselfers who come to buy supplies." Carter has only one local competitor, which helps business. It also hasn't hurt that during the past two or three years, 500 new homes have been built within a two-mile radius of the store.
Borough Offer Rejected Jan. 5 M-town, Union Still Negotiating
The current contract expired Oct. 1. However, some three and one-half months later, a new contract reportedly has yet to be ironed out between non-uniform personnel and Middletown Borough.
"We have had a number of negotiating sessions where no agreement was reached. Things are now currently in mediation," said Kathryn Speaker MacNett, the Borough's legal representative in this matter.
MacNett, of a Harrisburg law firm, explained that mediation is the customary next level in any negotiating process when, after a given timetable, no agreement has been reached.
Until a settlement is reached, the non-uniform employees are working under an extension of the three-year contract that expired Oct. 1, that being agreed to by both parties, said MacNett.
According to Borough officials, the employees, who are represented by the Teamsters, rejected an offer put forth by the Borough at a meeting on Jan. 5. That rejection left some on the offering side disappointed.
"Quite candidly, I believe the Borough put its best offer forward and I'm a little disheartened by the rejection," said Council President Barbara Layne. "I think the benefit package they (the employees) currently have is a very good one, and based on existing economic conditions, I feel the offer we've made is the best that can be made."
Stressing that details of the offer cannot be discussed at this time, Layne did state that the Borough is not asking for any concessions.
"We're not taking back anything. We're simply attempting to be fiscally responsible, to hold the line," Layne said.
Retired Highspire Councilwoman Once Served As Steel-High Nurse
She served 32 years as a school nurse in the Steelton-Highspire School District and another 20 years as a member of Highspire Borough Council. And, as if that weren't enough, she candidly admits she'd do it all over again, if she had the chance.
"I really mean it," Joanne Kern declares. "I have no regrets. I enjoyed what I did and the people I met in each of my careers, if you can call them that. I think I'm very lucky to have known so many fine people. They made all my efforts worthwhile."
She left hospital work in 1955 to take a school nursing position with the district. There she stayed for the next 32 years.
Nursing wasn't Kern's only undertaking. Thirteen years before she retired as a school nurse, she decided to get more involved in her community's affairs. So she ran for a seat on Highspire Borough Council and won, becoming the first woman ever to serve on that panel.
Kern was elected to five successive terms on Council and, until she retired from the position at the end of last year, she had racked up a total of 20 years as a Councilwoman. And, as with her nursing career, she says she never regretted the time she gave to her community in that capacity. Even when, as happened on two occasions, she found herself the lone Republican on a Council dominated by Democrats.
"There were times it got a little rough," Kern recalls, "but I stuck it out. It didn't always make me popular, but I tried to do what I thought my supporters wanted. They always re-elected me, so I guess I did something right."
Prices From 23 Years Ago
Lipton Onion Soup Mix 2 oz., 79¢
Broccoli Cuts 16 oz. bag, 99¢
Onion Pizza Rolls 2 ct., $1.49
Pillsbury Cake Mix 18.5 oz., box 79¢
Glad Sandwich Bags 150 ct., 99¢
Mild Provolone, $3.77/lb.
Quaker Oats 42 oz. pkg., $1.99
Grillmaster Franks 1 lb. pkg., 98¢
Suave Deodorant 1.75 oz., $1.29
Vibrance Shampoo 15 oz. btl., $2.79