23 Years Ago: Jan. 11, 2017
Posted 1/10/17
Raising Kane – It was time to raise a little "Kane" last week as schools were closed and the snowfall made a winter wonderland for hundreds of local kids. Andrea Kane is pictured having more fun than she probably would have had on a school …
23 Years Ago: Jan. 11, 2017
Posted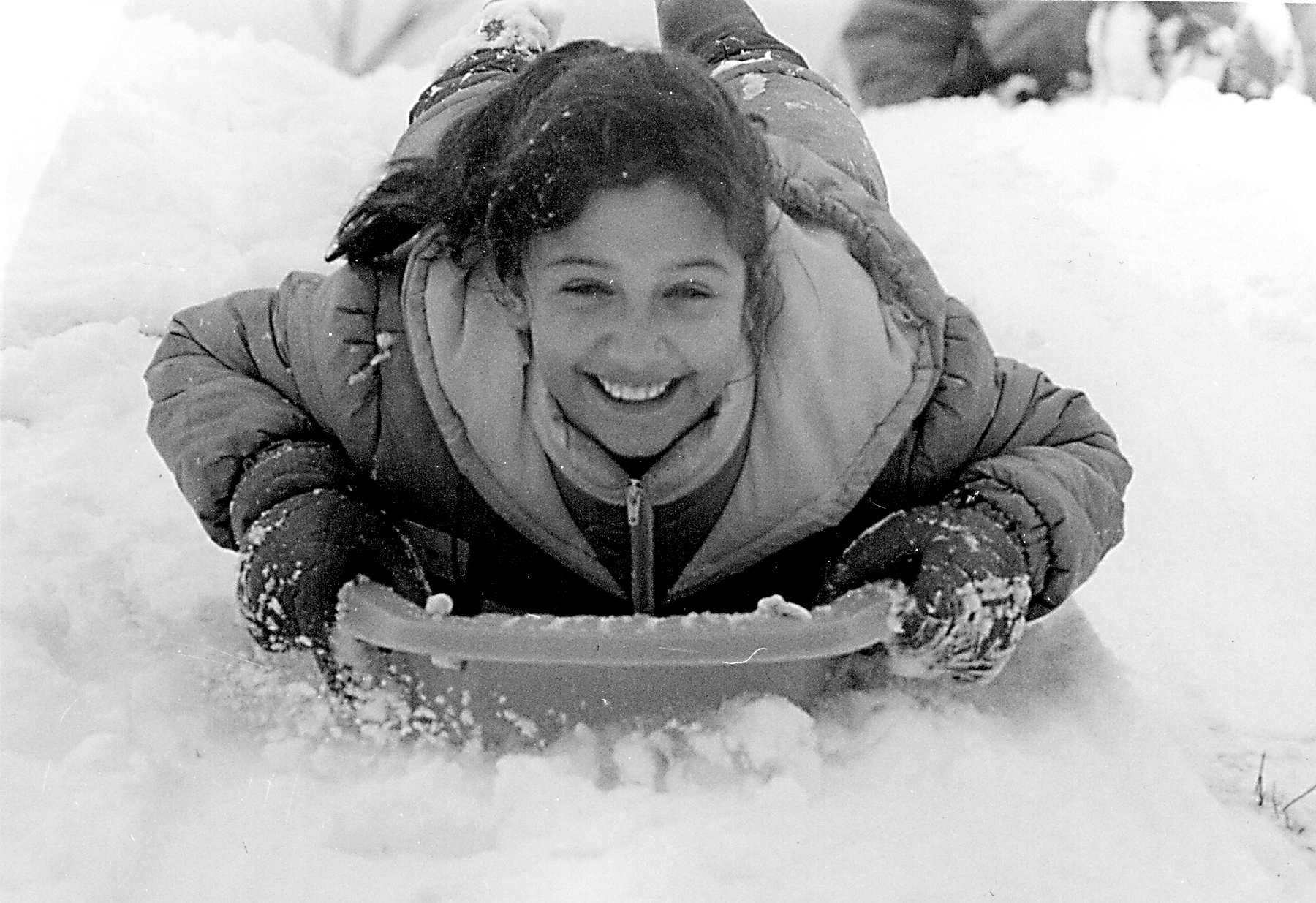 Raising Kane – It was time to raise a little "Kane" last week as schools were closed and the snowfall made a winter wonderland for hundreds of local kids. Andrea Kane is pictured having more fun than she probably would have had on a school day. A student at Demey Elementary School, Andrea is the daughter of Jeff Kane and Sandy McCann of Middletown.
From The Wednesday, Jan. 12, 1994 edition of the Press And Journal
Series Of Suspicious Fires Sparks Alarm, Anger
Twelve suspicious fires? All in Middletown's First Ward? All since early October? It was not a subject on the night's agenda. Rather it was expected to be a night of mostly ceremonious matters, going through, with pomp and proper protocol, the procedures required by state law on the first Monday of even-numbered years.
But shortly after Middletown Council re-organized, electing again as its president and vice president, Barbara Layne and Terry Seiders, five First Ward residents brought the curtain crashing down.
"We're here to talk about the fires being set around our area," said one resident who, along with several neighbors, attended Council's January 3 re-organization meeting.
With Council sitting in seemingly stunned silence, the resident politely continued, "We're living in fear," she said. "We all feel like sitting ducks wondering whose house will be next. Let's not keep this hush-hush. Let's make people aware there's an arsonist out there."
According to the resident, at the scene of a fire a few blocks from her house on Jan.2 – a day when a total of four fire calls were received by Middletown's Emergency Operations Center (EOC) – a firefighter told her that he suspected it was an arson and that it was not the only one.
Eyes darting from the audience to fellow Council members, Layne exclaimed, "I want you and everyone else in this room to know that this is the first time I've heard this."
In what appeared to be a search for someone to shed light on the issue, Layne looked at Mayor Robert Reid and then at Councilman George Elberti III, who is also an assistant fire marshal for the Borough.
Elberti, in an attempt to downplay the situation, simply said, yes a number of fires were under investigation by the State Police, and that no further details could be disclosed.
Layne said, "We'll take every measure we can, through the press, to make people aware."
Layne, Seiders Reappointed President, Vice-president of Middletown Council
On the first Monday of even-numbered years, state law requires local governing bodies to re-organize, to elect new officers to lead the body. On January 3, Middletown Council did just that, unanimously re-electing as its leaders, President Barbara Layne and Vice President Terry Seiders.
Both thanked fellow members for their support, but Layne went a step further, sharing with Council and those in the audience an acceptance speech she had prepared.
"When I became president in 1988, I stressed that this Council would go down in the annals of Middletown as one genuinely interested in what is best for the residents of this Borough. I strongly believe that we have been successful in accomplishing that – despite what some may say."
With conviction in her voice, Layne read on, "I further made a plea for us to continue to improve the quality of life for our residents."
As evidence of Council's efforts toward that end and its ability to operate as a team, Layne read off the following accomplishments: the Woodlayne project; the Wilson St. Bridge project, where ground was broken in May, Layne noted; the new Giant going up at Mid-Town Plaza; and the placement of the town square project on PennDOT's priority list.
"We have faced some very difficult issues over the past two years and will face more in the next two years." Layne said in bringing her speech to an end, "May God grant us the strength and courage we need to move forward in these very difficult times."
Familiar Faces Reappointed In Conoy Twp.
The Conoy Township Board of Supervisors met for its annual re-organizational meeting on Mon., Jan. 3, reappointing many longtime officials.
Once again, Stephen Mohr will serve as Board chairman and Earl Fuhrman as vice chairman. Board member Robert Strickland returns as secretary/treasurer, a post he has held for more than 30 years.
The Supervisors' various responsibilities remain as follows: Mohr – recreation and buildings; Fuhrman – sewer, water, fire and roads; and Strickland – planning, zoning, emergency management and roads.
Also, Mohr was reappointed as dog officer and Fuhrman returns as Township road master.
Richard Boas was reappointed as Chief of Police. The Board announced that the police force remains under a three-year contract that was signed in 1993. Under the contract, Boas reportedly earns $30,500 annually and Officer Joe Good earns $26,500. The department's two part-time officers earn a wage of $8.75 per hour.
The Board also voted to keep Marvin Stoner as sewer enforcement officer, Robert Brandt as zoning officer and Glenn Hipple as Vacancy Board chairman.
The Board gave its authorization for the Bainbridge Fire Department to carry out fundraising activities during the New Year. Officials also announced that the Township's 1994 budget was passed at a Dec. 28 meeting. Revenues are expected to total $714,956 and expenditures are expected to be $641,605 leaving a surplus of more than $100,000.
Prices From 23 Years Ago
Wilson Lite Roast Beef, $3.99/lb.
Dannon Light Yogurt 8 oz., 59¢
Wheat Kaiser Rolls 6 ct., $1.29
Icy Point Pink Salmon 14.75 oz., 2/$3
Hills Bros. Coffee 12 oz. can, 99¢
Blueberry Pie 24 oz., $2.99
Page Paper Towels, 3 Rolls/$1
Wildberry Crème Cake, $2.58/each
Kraft Parmesan Cheese 8 oz., $3.20
Wesson Oil 48 oz. btl., $1.99