23 Years Ago: Feb. 8, 2017
Posted 2/8/17
Fasnacht's Day – What are the odds that Angie Fasnacht would have her sixth birthday on Fasnacht Day? (Maybe one in six?) The daughter of Michael Fasnacht of Middletown, Angie will celebrate her coincidental birthday next Tuesday, Feb. 15. …
23 Years Ago: Feb. 8, 2017
Posted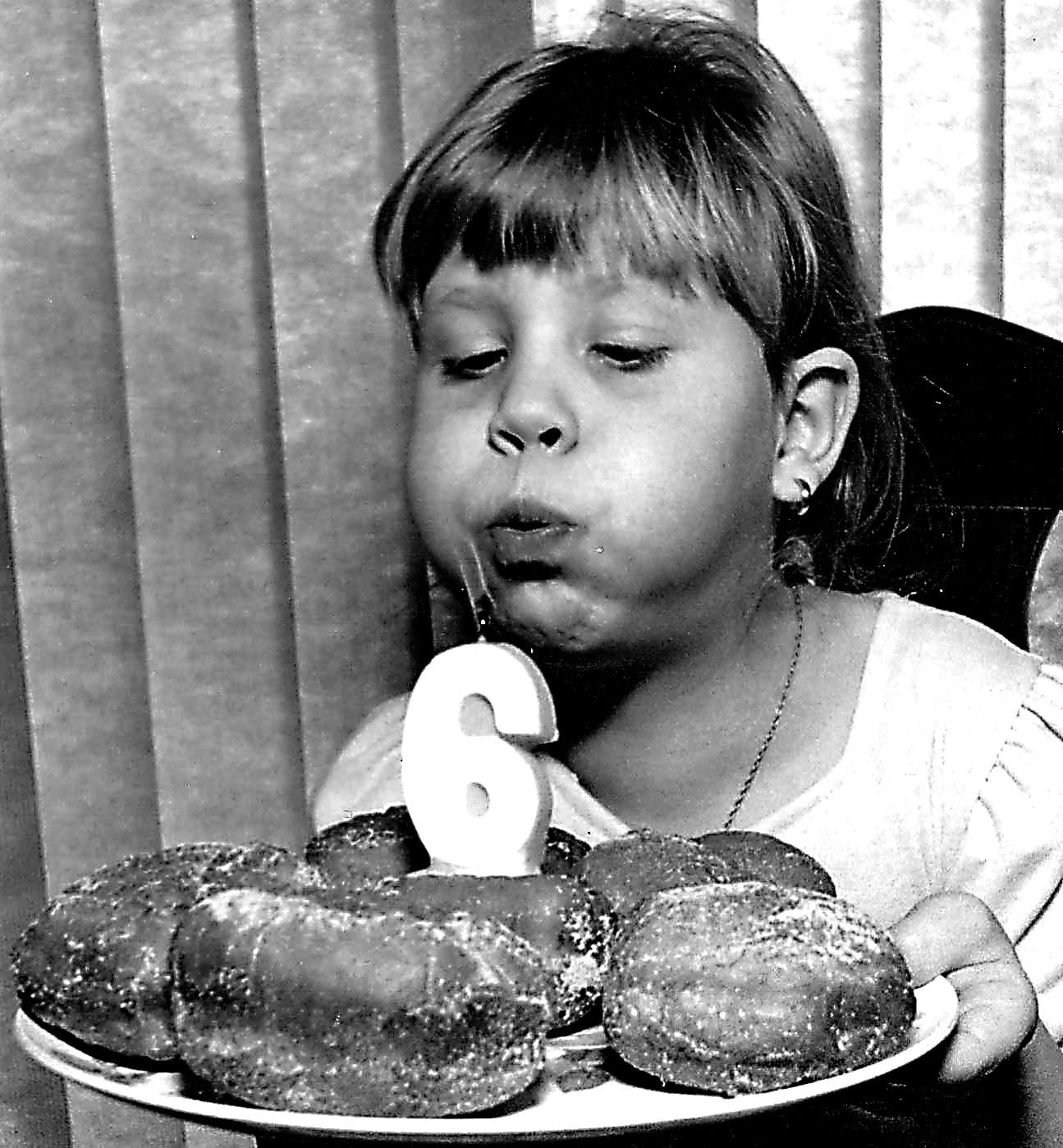 Fasnacht's Day – What are the odds that Angie Fasnacht would have her sixth birthday on Fasnacht Day? (Maybe one in six?) The daughter of Michael Fasnacht of Middletown, Angie will celebrate her coincidental birthday next Tuesday, Feb. 15.
From the Wednesday, Feb. 9, 1994 edition of the Press And Journal
Dog Wins Cancer Fight Due To 'Miracle' Cure
Obviously, Kathy Burger is grateful that her family's beloved dog, Bear, is still alive after being diagnosed with bone cancer last autumn, but she didn't allow herself to consider the worst. "There was no doubt in our minds that the treatment was going to work," she stressed.
The treatment that the Middletown resident has been using to combat Bear's leg tumor is shark cartilage capsules, first used in humans. And the results have been nothing short of amazing.
The massive, 110-pound Great Pyrenees, a friendly, familiar fixture to neighbors on Highland Avenue, is again bounding with life after being stricken with immobilizing pain only a few short months ago.
"Bear was in such pain that he couldn't move and didn't eat or drink," Burger described. "To get him to drink, I had to drip water from my finger into his month. I couldn't stand to see it. We were only a week or two from putting him to sleep."
Burger first noticed that something was wrong with Bear last September, when he began limping during their daily two-mile walks. At first Bear's veterinarian recommended aspirin for the pain, until X-rays revealed a tumor on the animal's rear leg. An orthopedic surgeon diagnosed the mass as bone cancer.
A friend who runs a dog kennel recommended a veterinarian, Dr. Pat Whittacker, who runs a practice in Asper, Adams County.
A certified acupuncturist, Dr. Whittacker also practices homeopathic medicine. It was she who prescribed the wondrous shark cartilage capsules for Bear, along with acupuncture and vitamins.
Burger remembered Bear's progress with the cartilage capsules and acupuncture: "We saw results in the first week when he walked up the deck steps. His mental attitude had changed. He was still limping badly but wanted to do things. The desire to live was there again."
Township Leaders Talk Tough On Enforcing Snow Ordinance
The Lower Swatara Township Commissioners at their February "workshop meeting" directed Police Chief Richard Malwitz to enforce the Township's ordinance regarding snow emergencies.
The snow emergency ordinance is one of the toughest I've ever seen," said Chief Malwitz. He said that when a snow emergency is declared no vehicle may be parked on any road designated as a snow emergency route. Vehicles parked on those roads are subject to a parking ticket.
"If the Board wants me to enforce it to the hilt, it's fine with me," Malwitz continued.
Commissioner Ron McAlpine, budget and finance chairman, asked, "Do we need to take a look at snow emergency routes?" Malwitz said he along with Dr. David Clouser, Township Manager, and Ron Paul, planning and zoning officer, have discussed that possibility.
"The feeling of the Board has changed over the years," Malwitz said noting that previous Boards didn't feel so strongly about enforcing the ordinance.
Study: HIA Brings Millions Into Region With Income, Jobs, And Taxes
The second part of an extensive study to determine the future of Harrisburg International Airport (HIA) has confirmed that the Lower Swatara Township facility is an integral piece of the region's economy that would be sorely missed should it ever be taken away.
A consultant for the Susquehanna Valley Regional Airport Authority (SVRAA) presented his financial analysis of HIA at the group's most recent monthly meeting, held at PennDOT's aviation headquarters at the airport. SVRAA, which is comprised of representatives from Cumberland, Dauphin, Perry and York counties, is studying the long-term air transportation needs of the region and how airport facilities could be used to maximize economic development.
According to Dr. John Martin, of Lancaster consulting firm Martin O'Connell Associations, the primary ways HIA has an economic impact in Central, Pa. are through direct and indirect jobs created by the airport, personal income and spending as a result of those jobs, business revenue generated by the airport and its employees, and state, county and municipal taxes.
SVRAA's financial consultant also determined that HIA is the seventh largest employer in Central Pa. behind AMP, Hershey Foods, Penn State University, Pa. Blue Shield, Armstrong Industries and Weis Markets.
Of the 1,539 direct, on-site jobs listed in Martin's report, HIA's airline employees make up 41 percent of that total, with government agency employees and freight transportation workers accounting for 18 percent and 12 percent, respectively. The majority of the airport's employees — 61 percent — live in Dauphin County, with 12 percent residing in York County and 10 percent each living in Cumberland and Lancaster counties.
In 1993, 753,000 passengers boarded planes at HIA. Of those, 75 percent were traveling on business and 25 percent were pleasure travelers. Each passenger who flies out of HIA is believed to spend an average of $285 per visit, the consultant said.
One of the best ways to enhance HIA's marketability in the future, Martin said, will be to further develop its freight transportation capabilities. Because of Central Pa.'s excellent trucking and rail services, he noted, "intermodal freight" should be a big focus of economic development in the region, with HIA providing a crucial link in that chain.
Prices From 23 Years Ago
Temple Oranges, 8/99¢
Fox's Tapioca Pudding, $1.39/lb.
Lender's Bagels 10-12 ct., 89¢
Thorofare Pot Pies 7 oz., 3/$1
Lean Imported Hams, $1.99/lb.
Fresh Celery, 58¢/stalk
Fasnacht Donuts, $2.79/each pkg.
Old El Paso Refried Beans, 16 oz. jar 69¢
Shark Bites Fruit Shapes, 5.4 oz. pkg., $1.88
Morton Honey Buns, 99¢
Oriental Salad Mix, 69¢/pkg.
Ore-Ida Crispers 2 lb., $1.99
Whitney's Yogurt 6 oz., 39¢
Jumbo Muffins 4 ct., $2.49