23 Years Ago: Feb. 1, 2017
Posted 2/1/17
Blame It On The Weather – An early morning weather-related accident on Friday, Jan. 28 prompted Highspire firefighters to respond to a collapsed roof at Stambaugh's Air Service at 427 Second Street in Highspire. The collapsed canopy was …
23 Years Ago: Feb. 1, 2017
Posted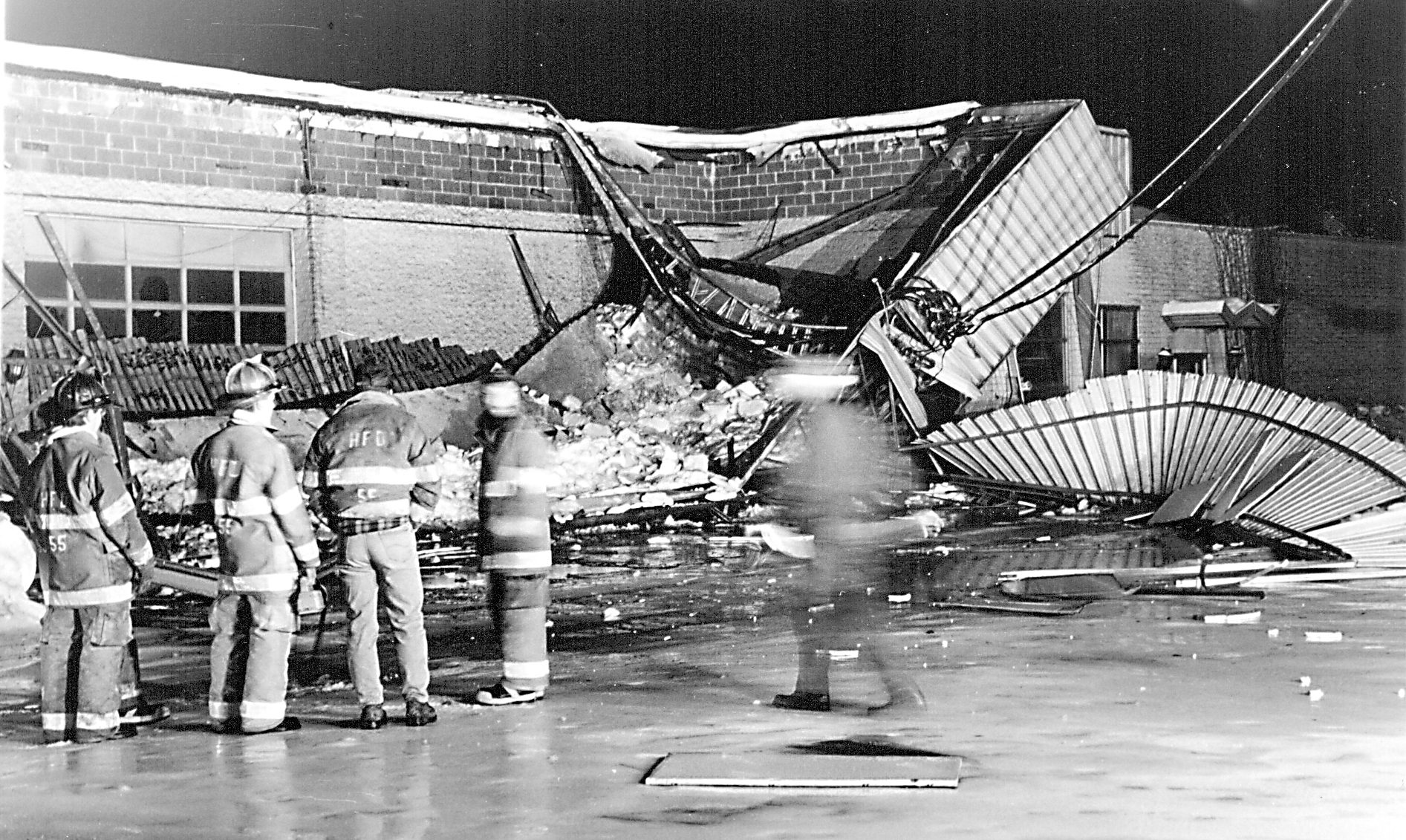 Blame It On The Weather – An early morning weather-related accident on Friday, Jan. 28 prompted Highspire firefighters to respond to a collapsed roof at Stambaugh's Air Service at 427 Second Street in Highspire. The collapsed canopy was discovered by an employee as he reported for work at 5:30 a.m. There were no further damages, but the electric was knocked out to an industrial operation housed in the rear of the building and was not expected to be restored for a few days.
From The Wednesday, Feb. 2, 1994 Edition Of The Press And Journal
School Calendars Adjusted; Last School Day Uncertain
Due to severe weather conditions, area school districts have proposed and approved adjustments to their school calendars for the 1993-94 school year. But the big question being asked by students, their parents, teachers and administrators – how long will school have to remain in session - will remain unanswered at least for several weeks.
While many school districts have cancelled in-service days and shortened upcoming Easter vacations, many superintendents admit they are awaiting a decision on the state level regarding the 180-student day requirement. Many school districts closed when Governor Robert Casey called on schools, businesses and residents to curtail energy consumption. The severe cold had forced utilities to consider and in some areas, enact energy blowouts.
In a move to grant Pennsylvania's school districts greater latitude in trying to make up snow days, Dauphin County Representative Frank "Chick" Tulli is introducing a bill to allow school to be in session on Saturday's. Tulli noted his bill would only grant districts this opportunity for the 1993-94 school year.
"If enacted, my bill would allow students to attend a full 180 days this school year, and not force those in their senior year to delay graduation or go to school well into the summer months. Each school district could decide on their own how they want to make up the days lost to bad weather. Having Saturdays would give them additional choices in trying to meet their own individual needs."
1993 Area Crime; A Reflection
Of National Trends?
Roving gangs, drive-by shootings, madness-driven mass murders. These remain, for the most part, the day-to-day horror stories of big cities – Chicago, New York, Philadelphia and Washington D.C.
Still, some good news has surfaced.
According to the leading national news story of Dec. 6, 1993, serious crime is down. FBI statistics, comparing the first six months of 1993 to the same period in 1992, showed both violent crime and property crime dropped, 3 percent and 5 percent, respectively.
However, the FBI director aptly noted that few Americans would draw much comfort from the "slight decreases" since the levels of violent crime and drug trafficking remain so staggering.
Chances are, few small town Americans will draw much comfort either.
As one Middletown property crime victim recently said, "Big city crime is here." It might not be the random, senseless, stranger-to-stranger violence playing out in large cities, but it is, many believe, different from the crime of yesteryear.
More guns, more drugs, more violence, more youth crime. Most area police chiefs agree, and 1993 headlines indicate, that these are the factors characterizing much of today's crime - even in small town America.
In 1992, the five localities surveyed for this report – Elizabethtown, Highspire, Lower Swatara Township, Middletown and Steelton - had no homicides. In 1993, five homicides occurred – two in Steelton; two in Middletown, one the result of an arson; and one in Lower Swatara Township, which authorities believe may have been drug-related.
Survey Helps LD Board Take
A Good Look At School
Thanks in part to a survey by the New Baldwin Corridor Coalition; the Lower Dauphin School District has a chance to take a look at itself. A condensed version of the survey was presented to the Lower Dauphin School Board at its January meeting by Dr. Ronald J. Snavely, assistant to the superintendent for curriculum and instruction.
"Sixty percent indicated that they had 'some' or 'quite a lot' of confidence in the public schools to prepare students for the job market. These findings are not unlike the annual Gallup Pole of Education," Dr. Snavely said in reading portions of the report.
"Only 7.5 percent of the respondents indicated that they would be willing to pay more taxes to support lengthening the school day or the school year. As keeping the school district buildings and facilities open for regular instruction 12 months out of the year would require additional resources, and if the public would not be willing to pay more taxes to support that, it would appear that there is no feasible mandate from the public to provide regular instruction 12 months out of the year," Dr. Snavely read.
A portion of the survey dealt with vocational/technical schools. "There was substantial agreement (74 percent) that there should be job placement service for vocational/technical students entering the work force. Because of the relatively high percentage of people responding 'undecided' it would appear that the general public is not well informed about the roll of vocational/technical schools."
Under the heading of Sharing Resources, the top three ranked items were sharing of purchasing, teacher and staff training and teachers. "Based upon this finding, it would be appropriate for districts to discuss ways to combine their staff development efforts."
Academic programs, extracurricular programs, and quality of faculty are important perceived strengths of the school district, according to the report.
Prices From 23 Years Ago
Progresso Minestrone Soup 19 oz. can, 69¢
Hormel Spam 12 oz. can, $1.89
Red Baron Pizza 22 oz. pkg., $3.29
Raisin Bran Cereal 20 oz. box, $1.99
Fashnacht Donuts bakers dozen, $2.79
Hamburger Helper 7.75 oz., 99¢
Chun King water chestnuts, 98¢
Speas Farm apple butter 10 oz., 99¢
Fresh brussels sprouts, 68¢/lb.
Minute Rice 28 oz. box, $1.99
Pork sirloin cutlets, $2.98/lb.