23 Years Ago: 9/28/2016
Posted 9/27/16
23 years ago - More Room In The Wrestling Room – The Middletown Area School District wrestling room has grown. And it was all made possible through the commitment of the Pin 'N Win Club, the Blue & Gold Club and the Middletown Area School …
23 Years Ago: 9/28/2016
Posted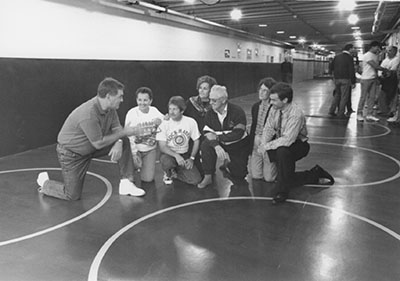 23 years ago - More Room In The Wrestling Room – The Middletown Area School District wrestling room has grown. And it was all made possible through the commitment of the Pin 'N Win Club, the Blue & Gold Club and the Middletown Area School District. Pictured from left at the renovated facility are: MASD Athletic Director Irv Strohecker; Bobbie and Earl Bright, president and treasurer of the Pin 'N Win Club; Gerry Sprecher, vice president of the Pin 'N Win Club; Vince Tritch, president of the Blue & Gold Club; Sheryl Strite, secretary of the Pin 'N Win Club; and wrestling coach Kevin Little.
From The
Wednesday,
September 29, 1993 Edition Of The Press And Journal
Organizations Assist Renovation Work At MASD
Wrestling Room

Late this past summer, the Pin 'N Win Booster Club realized the completion of a $14,000 renovation project at the wrestling room in the Feaser Middle School building. Citing the long overdue need to improve the practice facilities for the varsity, junior varsity and junior high wrestling programs, the Booster Club put the plan in motion earlier this year after securing the funds necessary to complete the project.

For the full story, CLICK HERE to subscribe to the Press And Journal.
{jcomments on}