23 Years Ago: 12/7/2016
Posted 12/7/16
Food For The Hungry -- Thanks to the thoughtful students at Kunkel Elementary School and members of the PTA there will be much food for the hungry during the upcoming holiday season. Pictured with over 900 pounds of food items on their way to the …
23 Years Ago: 12/7/2016
Posted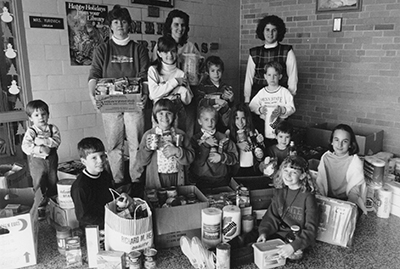 Food For The Hungry -- Thanks to the thoughtful students at Kunkel Elementary School and members of the PTA there will be much food for the hungry during the upcoming holiday season. Pictured with over 900 pounds of food items on their way to the needy are: Donna and Nicole Sipe, Becky, Robert, Nicholas and Marcus Wierman, Elaine and Allison Lau, Rachel Allen, John and Betsy Pitek, Niccole Shupp, Matthew Clark and Gretchen Ehrhart.
From The Wednesday,
Dec. 8, 1993 Edition Of
The Press And Journal
Boro Council Meeting Issues Call For Additional Attorneys

Perhaps it is a sign of how litigious our society has become, of how complex municipal governing has become, or perhaps it is a sign of both. Whatever it signifies, three attorneys were in attendance at Middletown Borough Council's regularly scheduled meeting of December 6.
The three legal representatives were David C. Clipper, Middletown Borough Solicitor, customarily present at Council meetings; Terrance J. Fitzpatrick of the Harrisburg-based law firm Malatesta, Hawke & McKeon, present to represent the Borough on the private well issue; and Kathryn Speaker MacNett, of the Harrisburg law firm Buchanan Ingersoll, hired to represent the Borough in negotiations now going on between the Borough and its uniform and non-uniform personnel.

According to Council President Barbara Layne, talks have reached an impasse with the Teamster's bargaining unit, resulting in a need for a mediator. Layne said the request for a mediator came from the Teamsters representative, not from the Borough. She also explained that the impasse centers on "wages and benefits."

She also stated that Council did factor possible wage and healthcare increases into its 1994 budget. But, she added, if demands exceed the budgeted amounts, Council would have only two choices, to reduce services or raise money to cover the difference.

Stressing that it is not a given that demands will exceed projections, Layne said that if that does occur, and if Council elects to raise the money rather than reduce services, that money will likely come from a tax increase.
'Christmas In The Park' To Shine Again In 1993

Middletown Borough is ready to "deck the parks," turning Hoffer Park into a winter wonderland of shining lights for the third annual "Christmas in the Park" celebration.

The extravaganza begins Fri., Dec. 18 at 6 p.m. when none other than Saint Nick will arrive at the park on a fire truck, delighting young and old alike. The Middletown Area High School Brass Band will also be on hand to fill the air with songs of the season.

Children can tell Santa their Christmas wishes inside the pavilion each evening through Dec. 23 from 6 to 9 p.m. Also, volunteers will serve hot cocoa, coffee and cookies to visitors.

Outside, one can take in a breathtaking array of 40,000 Christmas lights strung throughout the park. The outside displays will remain in place through Jan. 3.

Visitors are welcome to drive through the park or take a stroll and read the huge storyboards bearing the classic tales, "The Night Before Christmas." All work, including the art, was done by local volunteers.

"The Borough Electric Department did an outstanding job with this project," praised Middletown Mayor Robert G. Reid. "It takes days to set all this up." He expected preparations to be completed by Fri., Dec. 10.

Mayor Reid also lauded Irv Strohecker, who headed the decorating committee, and the many citizens who are donating time to make this "Christmas in the Park" a memorable one. He also thanked the Londonderry Garden Center for donating the indoor Christmas tree.
Prices From 23 Years Ago

Wilson Honey Ham $3.79/lb.
Fox's Dutch Potato Salad 99¢/lb.
Pascal Celery....... 89¢/stalk
Raisin Bread 16 oz. $1.79
Breaded Italian Veal Cutlet $8.79/lb.
Tropicana Twisters 46 oz. $1.79
Log Cabin Syrup 24 oz. btl. $1.69
Hot Cocoa Mix 10 oz. pkg. 83¢
Grey Poupon Mustard 8 oz. $1.73
Cain's Mayonnaise 32 oz. $1.49
Library Board Studies Options For Locating Larger Quarters

When the Elizabethtown Public Library moved to its present location in 1961, its directors could not have anticipated that they would have to consider another move again 32 years later. But that's exactly what the present members of the Board are now contemplating.

Faced with a steady increase in its use by community residents and the lack of suitable space to expand the facility at its present location on North Hanover Street, the Library Board has begun to look at various options for finding a new location for the community facility.

"It's not a matter of choice," Librarian Susan Bowser admits. "We need more space if we want to continue to provide the community with the kind of service they've become accustomed to."

Bowser says the Library's circulation has jumped from about 20,000 annually in 1971 to more than 110,000 during 1992. Nearly 50,000 people visit the Library each year and the pace of that growth seems to be increasing steadily, she adds.

"The idea of trying to enlarge our present building just isn't feasible," Bowser explains. "We don't have enough available space here and the present building needs a lot of work to meet state and federal requirements."

Bowser says there are some buildings available right now that could be adapted to meet the library's needs and would give them a more prominent and easily accessible location.
"Our present building is on a beautiful site, but it's in a secluded area of town. I think it should be out on a main thoroughfare where it's more visible and more inviting."


{jcomments on}