23 Years Ago: 12/14/2016
Posted 12/14/16
23 YEARS AGO - Just In Time For Christmas – The newly constructed Ebenezer United Methodist Church has been topped with its new steeple. Last week parishioners Otis Parker, Clyde Rabuck, Bob Hamill, Cork Myers, Leon Irvin and Ol Condran put their …
23 Years Ago: 12/14/2016
Posted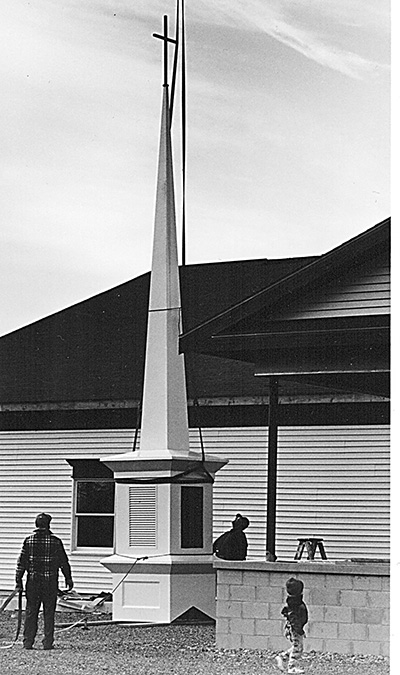 23 YEARS AGO - Just In Time For Christmas – The newly constructed Ebenezer United Methodist Church has been topped with its new steeple. Last week parishioners Otis Parker, Clyde Rabuck, Bob Hamill, Cork Myers, Leon Irvin and Ol Condran put their collective skills together and hoisted the steeple into place just in time for Christmas. Consecration services will be Sunday, December 19 at 3 p.m. Pastor Suanne Williams-Whorl invites everyone to attend and celebrate in the service as well as the Christmas Eve Candlelight service at 7:30 p.m.
From The Wednesday,
December 15, 1993 Edition Of The Press And Journal
Bicycles, Sleds, The Spirit Of Santa: Readers Recall Holiday Moments

In these fast-moving times when children ask Santa for toys with prices that rival a week's paycheck and parents are frenzied by endless holiday errands and chores, we need to remember the true meaning of the holy season – sentiments which include goodwill to others and the joy of sharing simple pleasures.

Half the fun of Christmas is remembering the holidays of years gone by – and judging by the special memories that our readers have shared with us, the Christmases of youth contain magical memories that are carried throughout a lifetime. So sit back and take a journey through a heartwarming wonderland as our readers reminisce.

Plenty of Love: Lois Plott of Middletown admits that while her family didn't have much money when she was growing up, her parents did their very best to make everyone's Christmas merry. One Christmas Lois' parents could only afford one sled for the eight children. "We had more fun with that one sled than if my dad had gotten one for each of us.

The Little Gray House: JoAnn "Judy" Seiders of Middletown says that she will never forget the Christmas of 1957 when she and her three children moved into their first house on Susquehanna St. Although the house was in ill repair, it mattered little to her – it was Christmastime and this was her home. "I would stay up late at night and paint and cover the holes in the plaster with pieces of sheets and flour paste that I made myself," she recalls proudly. "With great care and work I turned a little rundown shack into a precious home where there was peace, love and joy." Family and friends donated a tree all decorated with lights and ornaments. Judy says that although there weren't any gifts under the tree that year, "there was love and warmth and the smell of Christmas all through the house."
Intrusion Prevention Measures Completed At Three Mile Island

Officials at Three Mile Island announced last week that additional security measures intended to prevent intrusion incidents at the nuclear power plant have been completed at a cost of about $1 million.

GPU Nuclear, operator of the Londonderry Township facility, planned the security "enhancements" shortly after the February 7 intrusion by a man who drove his car past TMI guards and into a presumably secure area of the plant.

The improvements include: heavy barrier gates at the north and south bridges leading to the island, a guard rail type vehicle barrier around the inside perimeter of the existing "protected area" fence (the internal structure that the intruder successfully breached) and additional video surveillance.

During a media briefing on Wed., Dec. 15, TMI officials presented a videotape of crash tests in which the same type of gate now installed at the plant was used. The tape showed a 15,000-pound, jet-propelled truck striking the gate at 40 mph. Although the truck was demolished in the test, the gate survived intact.

TMI spokeswoman Mary Wells explained at the briefing that this particular kind of gate is made of steel and is reinforced inside with cable.

"But let's fact it," Wells said. "The gates are open during the day, so they wouldn't stop anything." Wells went on to stress, however, that the additional protected area barriers would keep a potential intruder from getting further into the plant and that security personnel would then be able to apprehend the intruder. (Enclosing a 600,000-square-foot area, the protected area fence is equipped with motion detectors and is used for detection rather that intrusion protection).
Prices From 23 Years Ago

Kunzler Baked Loaves $2.69/lb.
Fox's Pickled Eggs 6/$1.39
Fox's French Onion Dip $1.49/lb.
White Potatoes 10 lb. bag $1.49
Jimmy Dean Sausage Links
10 oz. pkg. $1.99
Nabisco Snack Crackers
7-10 oz. $1.69
Tree Free Paper Napkins $1.99
Ripe Pineapples $1.49
Golden Yams 39¢/lb.
Gibble's Cheese Curls 7 oz. 99¢
Rosetto Ravioli 27.5 oz. $2.85
Silk Cream Pies $4.98
Londonderry Disbands
Parks/Rec. Committee;
Other Issues Discussed

Ordinance adoption played a key role at a recent meeting of the Londonderry Township Board of Supervisors.

At the Mon., Dec. 6 meeting, the Board adopted Ordinances 1993-6 through 1993-9.
Ordinance 1993-6 stipulates the disbanding of the Township's Park and Recreation Committee.
"Due to a recent resignation of a committee member, this leaves the committee with less members than desired," stated Secretary/Treasurer Joyce Lingle. With a unanimous vote, the Board decided to take over the responsibilities of the Park and Recreation Committee, this making it obsolete.

Chairman Daryl LeHew noted that the remaining committee persons are qualified but that it is too much work for only three persons. If enough interest is generated in the future, a new committee will be appointed, the Supervisors said.

After a public hearing prior to the scheduled meeting, the Board approved Ordinance 1993-7 regarding the construction of fences and walls within Township, state and federal road right-of-ways. Permits will now be required for construction only when along right-of-ways. Board members Jay Kopp and LeHew voted in favor of the ordinance while Paul Geyer voted against.
{jcomments on}