23 Years Ago - 1/14/15
Posted 1/13/15
23 YEARS AGO - Brunner Tech Wing Dedication – The official dedication of the Edward E. Brunner Science and Technology wing of the Middletown Area High School took place Sunday, October 20 at 2 p.m. Leon Calabrese presided over the ceremony which …
23 Years Ago - 1/14/15
Posted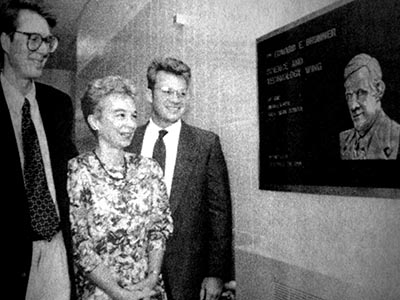 23 YEARS AGO - Brunner Tech Wing Dedication – The official dedication of the Edward E. Brunner Science and Technology wing of the Middletown Area High School took place Sunday, October 20 at 2 p.m. Leon Calabrese presided over the ceremony which included an invocation by Reverend John R. Drayer, music by the MAHS concert choir and testimonials by Dr. Samuel Selcher, School Board Member, Robert Reid, teacher and mayor, and Ray E. Thompson, administrator. Architect James McCall presented the key to Bruce O. Rowe, president, Board of Education, and Casper Voithofer, principal. Pictured from left are members of the Brunner family: son, James, wife, Barbara, and son, Richard.
From The Wednesday, January 15, 1992 Edition Of The Press And Journal

From JFK To HIA
Subjects ranging from the assassination of JFK to waste buried under the runway at Harrisburg International Airport were addressed by United States Senator Arlen Specter during a stop in Middletown last Thursday afternoon. The visit in Middletown was one of many for the senator during a number of "open house" stops throughout Central Pennsylvania.
The issue of Specter's role in the investigation of the assassination of President John Kennedy was a prime topic last week. He repeatedly fended off questions about his portrayal as "the biggest liar in America" in the controversial film "JFK."