23 Years Ago - 11/23/2016
Posted 11/23/16
23 YEARS AGO - Senior Raiders – Pictured are the senior Raiders you've enjoyed watching on the field and now it's time to see them without their helmets. Senior football players honored at the Sunday, November 14, 1993, football banquet are …
23 Years Ago - 11/23/2016
Posted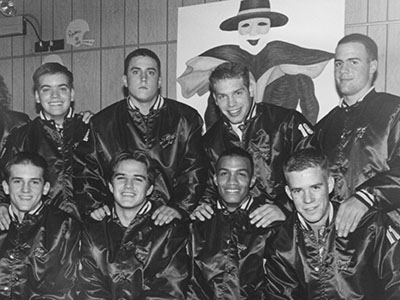 23 YEARS AGO - Senior Raiders – Pictured are the senior Raiders you've enjoyed watching on the field and now it's time to see them without their helmets. Senior football players honored at the Sunday, November 14, 1993, football banquet are from left top row: Jeffrey Swartz, Ricky Thomas, Mike Corradi and Tom Leach. Front row from left: Tom Blazi, Jason Sipe, Antwon Scott and Dave Morgan.
From The Wednesday, November 24, 1993 Edition Of The Press And Journal
L. Swatara Twp. Expects Taxes To Remain Same In '94 Budget
Despite capital purchases that include two new police vehicles and a street sweeper, the Lower Swatara Township Board of Commissioners was recently able to advertise a 1994 budget with no tax increases.
"The bottom line is we're living within our means," said Commissioner Ron McAlpine, budget and finance chairman.
The formal vote to adopt the 1994-spending plan is set for December 15. The proposed budget came in at $1,875,005, compared to the 1993 budget, which was $1,834,526.
"I think it's a fair budget," McAlpine told the audience at the special public hearing held prior to the Board's November business meeting. "The new contract for waste collection is going to save us $20,000," he added.
McAlpine noted that the tax millage would hold at "2.64 mills for the fifth or sixth year in a row."
McAlpine pegged the cost of the two police cruisers at $30,000 and the cost of the street sweeper, which will be purchased through a lease-purchase agreement, at $25,000.
Real property taxes are projected to produce revenue of $650,000 in 1994 with the earned income tax generating $490,000.
On the expenditure side, total public safety expenses come in at $860,881 in the proposed budget in addition to $402,880 earmarked for total public works.
The proposed 1994 budget will be on display in the municipal building.
Also at Wednesday's meeting, the Board awarded the Township's waste management contract to York Disposal Company, Inc., which was the low bidder. The contract is contingent on approval of an agreement that John Polly, vice president of York Disposal, presented to the Board on Wednesday.
{jcomments on}