23 Years Ago 11/16/2016
Posted 11/15/16
23 YEARS AGO - Jamesway Re-opening – Dropping in at Jamesway takes on a different slant as a skydiver maneuvers his Para-kite to the roof of the newly re-opened Jamesway store in the Jamesway Plaza, Middletown. The only large department store in …
23 Years Ago 11/16/2016
Posted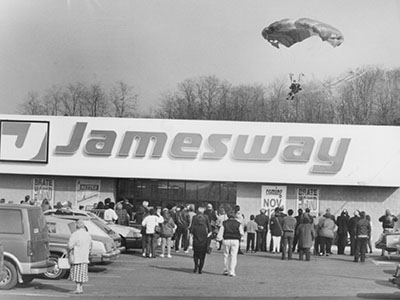 23 YEARS AGO - Jamesway Re-opening – Dropping in at Jamesway takes on a different slant as a skydiver maneuvers his Para-kite to the roof of the newly re-opened Jamesway store in the Jamesway Plaza, Middletown. The only large department store in the Middletown area had been closed for months after the building flooded due to heavy rains.
From The Wednesday, November 17, 1993 Edition Of The Press And Journal
L. Swatara Twp. Hobbyist Is Soldier In Movie 'Gettysburg'
Just after daybreak on July 1, 1863, a Union cavalry unit commanded by John Buford chanced upon a division of Confederate infantry marching eastward along the road from Cashtown toward Gettysburg.
The Confederates were headed to town to try to commandeer some needed footwear from a Gettysburg shoe factory; the Union cavalry was on a scouting mission to locate any Confederate units that might be in the area. The two forces clashed in a brief but bloody skirmish almost within sight of the town before the outnumbered Union horsemen withdrew from the contest.
Turner Pictures has produced a monumental new film about the great Battle of Gettysburg that's likely to become a film classic.



For the full story, CLICK HERE to subscribe to the Press And Journal.