23 Years Ago - 11/09/2016
Posted 11/8/16
23 YEARS AGO - Students Jump Rope For Heart – Students of Middletown's George Feaser Middle School literally jumped at the chance to fight heart disease at the schools sixth annual Jump Rope for Heart. The event was held on Friday, November 5. …
23 Years Ago - 11/09/2016
Posted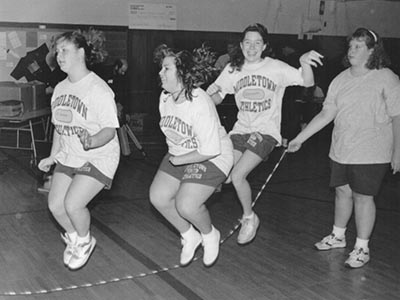 23 YEARS AGO - Students Jump Rope For Heart – Students of Middletown's George Feaser Middle School literally jumped at the chance to fight heart disease at the schools sixth annual Jump Rope for Heart. The event was held on Friday, November 5.
From The Wednesday, November 10, 1993 Edition Of The Press And Journal
Community Action Center Looks To Expand
An "after-school enrichment program" and a "discovery room," those were the main topics discussed at a recent meeting of the Middletown Community Action Center.
CAC is one of five satellite branches of the Community Action Commission, a private, non-profit social service agency partially funded by the state Department of Community Affairs.
Formerly located on South Union Street, CAC relocated its operation in October 1992 to a 2,250 square-foot basement area of Woodlayne Court, the area having been donated by Pennrose Properties, the Philadelphia-based developer and manager of the housing complex.
Since June of this year, CAC personnel and representatives from other social agencies have been meeting to exchange ideas and form partnerships in the delivery of existing services and the development of new services.
Bill Gross of Three Mile Island and GPU Nuclear Corp. and employee Pat Conlon were present to propose a new program, a GPU/TMI-sponsored after-school enrichment program. Leah Kauffman, of Girls Inc., also proposed a new program, a discovery room. The discovery room would be equipped with shoeboxes containing materials, which if properly assembled produce a result, such as a light bulb lighting up.
Elaborating on their proposed after-school program, Gross and Conlon stressed it would be more than a tutoring center and more than a homework assistance program. It would also include social development skills, they said.
It is hoped that both new programs will be up and running sometime in early 1994. Gross hopes the after-school program will be available by January. "It's just what this town and the school needs," he said.
DiFrancesco Announces Run For Lt. Governor
A prominent local figure has kept a year old promise that he would seek a high-ranking political position in Pennsylvania when the time was right.
Dominic DeFrancesco, the Lower Swatara Township resident who gained national prominence and acclaim as the National Commander of the American Legion in 1991 and 1992, told the Press And Journal on Monday morning that he would run for Lieutenant Governor in the 1994 gubernatorial election.
DiFrancesco was scheduled to make a formal announcement of his candidacy Tuesday morning in the Capitol Rotunda.
Stressing that he will pursue reform-oriented themes in his coming campaign, DiFrancesco criticized the state's current Democratic leadership during an interview on Monday.
"We can't go on with politics the way they are today," DiFrancesco stated. "They're closing down the Senate while our economy is going to heck, and you have a lot of partisan politics taking place. Nothing is being done right now and yet we're paying high salaries for these people."
A Korean War veteran who fought for long-term benefits and health care during his tenure in the Legion's top post, DiFrancesco insisted that he would work for the people of Pa. as vigorously as he did while traveling the globe on behalf of veterans. And, he said, although he will run for office as a Republican, he will not subscribe to "heavy party affiliation" as some officials do when elected.
"I don't have the baggage that other politicians have," he explained. "I don't owe anything to the political action committees (PACs), so I don't have to worry about doing what they ask me to. I feel there is a change needed. I want to try to get this state moving again."
As national Commander, DiFrancesco traveled more than 200,000 miles as the official spokesman for the world's largest veterans' organization, representing more than 3 million members. He met with President George Bush in the Oval Office numerous times during his one-year term, as well as with other U.S. leaders, the Pope and foreign heads of state. He also testified before Congress on various veteran issues, including the Persian Gulf War registry, a new GI Bill of Rights, Agent Orange compensation and the management of the Department of Veterans Affairs (VA).
TMI Intrusion, Trade Center Bombing Highlighted
Nuclear Industry Battling Threat Of Sabotage With New Measures
The February intrusion at Three Mile Island by a Berks County man continues to play a substantial role in the future of the nuclear power industry.
The U.S. Nuclear Regulatory Commission (NRC), which has studied the incident at length and presented its findings to Congress, has now proposed security changes that would require nuclear plants across the nation to prevent against acts of sabotage involving the use of land vehicles.
In a press release issued last Thursday, NRC officials named the TMI intrusion and the truck bombing of the World Trade Center in New York City as the primary reasons for the security policy upgrade. Based on those incidents, the release said, "The NRC believes that a vehicle intrusion or bomb threat to a nuclear power plant could develop without warning in the future."
The amendments would modify the NRCs "design basis threat" - by which the nuclear industry postulates possible risks to plant security – to include the use of land vehicles "for transporting personnel, hand-carried equipment and explosives," the statement noted.
According to officials, nuclear plants would require under the amended regulation to establish vehicle control measures to protect against unauthorized entry into vital areas. The proposed rule would also call on individual plant operators to submit their revised security plans within 90 days after the amendment becomes effective.
Plants would then have 360 days to implement the new measures.
The intruder in the TMI incident drove his station wagon through security gates and fences at the plant on Feb. 7 and evaded an army of security personnel and police officers for four hours.
Less than three weeks after the intrusion at TMI, the terrorist bombing of the World Trade Center caused an even greater wave of concern that the U.S. may not be as safe from extremists as it had been previously.
Water Main Break Cuts Service To W. Donegal Twp.
Just four days after it had assumed control of the Rheems Water Company, the West Donegal Township Authority (WDTA) survived a major crisis as it was forced to deal with a water main break that cut service to most of its customers in the Rheems area Monday night.
According to the WDTA's chief operator, Raymond "Bid" Witmer, the break occurred shortly before 9:30 p.m. at a point almost in front of the Rheems Fire Station on Harrisburg Avenue at Lime Street.
Witmer said a six-inch main that carries water from the pumping station on Harrisburg Avenue to the system's storage tank in the northwestern section of town broke open and water soon covered more than a block of Lime Street.
Efforts to control the water leak were thwarted by the lack of emergency shut-off valves, Witmer explained, and the Township Authority's crew was finally forced to turn off the water to about 95 percent of its customers at about 1 a.m., Tuesday. Witmer said the system lost an estimated 175,000 gallons of water before service was shut down.
Service to the John Cope Company and a number of homes between that plant and the Rheems Nursing Home weren't affected by the break, Witmer explained. Service to the rest of the community was finally restored at about 11:30 a.m., he added.
"It really caught us by surprise," Witmer declared. "We had no idea that anything was wrong until we got the first call just before 9:30.
Witmer said he and Steve Jarvis, assistant system operator, were on duty from that point on until water service was restored just before noon Tuesday.
Witmer and Township Authority engineers are investigating the incident in an effort to determine what might have caused the break. He conjectured that a partially blocked storm water drain might have forced storm water to run under the water main and that, in turn, may have seriously undermined the main, which cracked open in that affected area.
{jcomments on}