23 Years Ago - 11/02/2016
Posted 11/1/16
23 YEARS AGO - Field Hockey All Stars – The Lady Raiders field hockey team, completed a great season, as fans will attest. The Mid-Penn field hockey league felt the same way as Middletown was well represented in the All-Star league lineup. …
23 Years Ago - 11/02/2016
Posted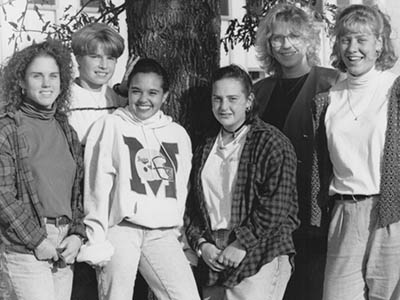 23 YEARS AGO - Field Hockey All Stars – The Lady Raiders field hockey team, completed a great season, as fans will attest. The Mid-Penn field hockey league felt the same way as Middletown was well represented in the All-Star league lineup. Pictured from left to right are: senior Colleen Winters; sophomore Jennifer Reeser; junior Jennifer Nester; senior Liz Paul; coach Maureen Dennis; and senior Leslie Voithofer.
From The Wednesday, November 3, 1993 Edition
Of The Press And Journal
Middletown Trying Again For Police Merger/Regionalization
If a letter from Middletown Borough is received by Lower Swatara Township and if Lower Swatara officials again reject the idea, as they did July 13, the issue of police consolidation will be closed, at least from the Township's perspective.
"If we get a letter, we'll put it on the table for discussion, but if the majority votes no, it would be a dead issue," said Frank D. Linn Sr., president of the townships Board of Commissioners.
A letter is reportedly on its way, according to Middletown Council President Barbara Layne. She indicated on Oct. 27 that she had talked with Linn over the phone about reconsidering the merger of the two departments and intended to follow up the conversation in writing.
The issue of police consolidation had re-surfaced at Council's Oct. 19 committee meeting. At that time, Councilman George Elberti III noted that Middletown Police Chief George Miller would be retiring next year. That notation, coupled with discussion about the financial savings that could be realized prompted Elberti to say, "We are in that same window of opportunity. I think we should again approach our neighboring communities and explore the possibility."
But Lower Swatara Township might have to be ruled out as a potential participant, for now, anyway.


For the full story, CLICK HERE to subscribe to the Press And Journal.
{jcomments on}