23 Years Ago - 11-30-2016
Posted 11/30/16
23 YEARS AGO -Open House – On November 23 parents and friends were invited to an open house at the Edward E. Brunner Science and Technology Wing of the Middletown Area High School. Computer applications, keyboarding, programming, work processing, …
23 Years Ago - 11-30-2016
Posted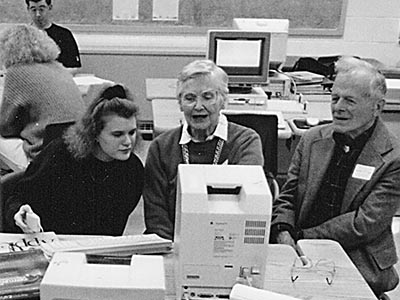 23 YEARS AGO -Open House – On November 23 parents and friends were invited to an open house at the Edward E. Brunner Science and Technology Wing of the Middletown Area High School. Computer applications, keyboarding, programming, work processing, library technology and English were shared with the guests. Pictured in the computer room is Roni Wareham (upper right) helping Edith and James Booser better understand the workings of the Macintosh computer system.
From The Wednesday, December 1, 1993 Edition Of The Press And Journal
Civil War Reenactor Mixes With Stars While Filming 'Gettysburg'
Turner Pictures recently sent special commemorative packets to each of the more than 5,000 reenactors who went to Gettysburg in the summer of 1992 to contribute their presence, their unique training and their dedication and experience in Civil War reenactments to make "Gettysburg," a motion picture already being praised as a classic.


Looking over those precious mementos of his participation in the re-staged battle, Bill Leonard says he often reflects on the fact that he has been fascinated with that famous battle ever since his parents, Margaret and William Leonard Sr., of Royalton, took him to visit the battlefield.


{jcomments on}