23 Years Ago: 10/29/2014
Posted 10/28/14
Archive Photo - 23 YEARS AGO - Who's Minding The Farm? – If you're involved in farming in Dauphin County, chances are you know the Kopp family of Londonderry Township. The family tradition of farming has been passed down through the …
23 Years Ago: 10/29/2014
Posted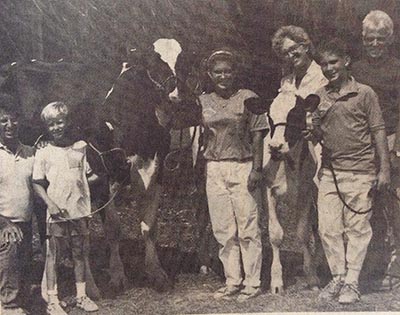 Archive Photo - 23 YEARS AGO - Who's Minding The Farm? – If you're involved in farming in Dauphin County, chances are you know the Kopp family of Londonderry Township. The family tradition of farming has been passed down through the generations. A portion of the family was out in full force at the 18th Annual Elizabethtown Fair. Pictured from left are Ronald Kopp and his son Brandon, Jayanna Kopp with her Holstein Fran who was due to calf on Saturday, Ann Kopp, Adam Kopp with his intermediate calf, Sherbet, and Jay Kopp.

From The Wednesday, October 29, 1991 Edition Of The Press And Journal


SHARE To Open Youth Center At Steel-High


Channeling teenagers' enthusiasm and energy into fun and educational activities is the idea behind a new teen activity program sponsored by the Steelton-Highspire Association of Recreation and Education (SHARE), formerly the Drug and Alcohol Task Force.


The Task Force was formed last spring after the Steelton-Highspire School Board conducted an area survey to assess social problems of the community. According to the survey, elementary and secondary students and the community at large view substance abuse as a main social concern.


The organization was re-named two months ago to give it a "more positive" image to the community, according to Norma Keeney, co-chairwoman. Keeney is joined by William Price and Giovannah Anderson in leading the organization.


For the full story, CLICK HERE to subscribe to the Press And Journal.