23 Years Ago: 10/12/2016
Posted 10/12/16
23 YEARS AGO - Court Date Set – You are cordially invited to Memorial Field on Sat., Oct. 16 for Middletown Area High School's Homecoming festivities. One of the ladies above will be this year's queen. Pictured from left are Danielle Givler, …
23 Years Ago: 10/12/2016
Posted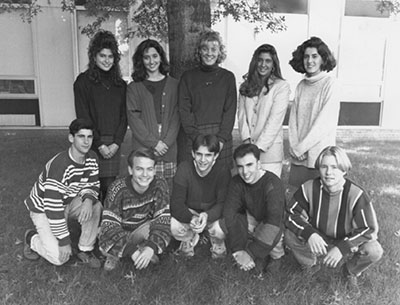 23 YEARS AGO - Court Date Set – You are cordially invited to Memorial Field on Sat., Oct. 16 for Middletown Area High School's Homecoming festivities. One of the ladies above will be this year's queen. Pictured from left are Danielle Givler, Erin Bachman, Leslie Voithofer, Keri Pilkerton and Rosella Randazzo. They will be escorted by the young men in front of them, from left: Matthew Golden, Joshua Koch, Robert Smith, Jason Drayer and David Kluz.
From The Wednesday,
October 13, 1993 Edition
Of The Press And Journal
Plans For Giant Store
Hit Snag Over Traffic

It is a $1.6 million project. The building plans show it to be a 44,500-square-foot structure that will be situated on the southeast corner of the site housing the Mid-Town Plaza.
For the full story, CLICK HERE to subscribe to the Press And Journal.
{jcomments on}