Worn down in Chocolatetown: Turnovers doom Raiders in 42-14 loss to Spartans
Posted 10/8/13
Three late Middletown miscues allow Milton Hershey to pull away
Milton Hershey stopped Middletown's winning streak at four games with a 42-14 decision at Henry Hershey Stadium on Friday, Oct. 4.
Worn down in Chocolatetown: Turnovers doom Raiders in 42-14 loss to Spartans
Posted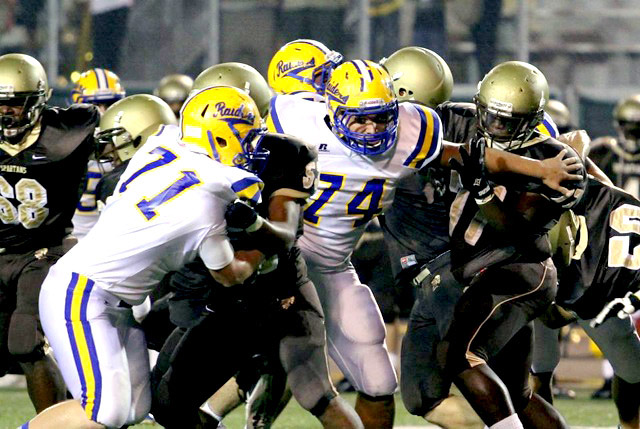 Photos by Jodi Ocker Middletown defenders Nick Drawbaugh (71) and Mitch Ward (74) push through the Milton Hershey offensive line.The loss dropped the Blue Raiders (4-2, 2-1 in the Mid-Penn Conference Capital Division) out of a tie for the top spot in the division and handed the Middletown squad just its second setback of the 2013 season.

Locked up in a good battle with the Spartans (5-1, 3-0) for three quarters of action on an unseasonably warm evening, the Raiders saw everything totally unravel in the fourth quarter, as three straight turnovers led to a 21-point outburst by the hosts and made the final score somewhat deceptive.

It all came down to numbers. With no players having to play both ways, Milton Hershey's two separate teams of offense and defense, loaded with many talented athletes, wore down the Raiders in the end. Fatigue causes mistakes, and that factor turned out to be the Raiders' enemy in the final 12 minutes.

The Spartans entered the game owning one of the top scoring offenses in the league and the Middletown side had a pretty solid game plan in hand to slow down the Milton Hershey offense.

Much to many fans' surprise, the two teams battled to a 0-0 standoff through the game's first 11 minutes. With linebacker Steven Cain and tackle Brent Newton leading the way, the Middletown defense held the Spartans to just 22 net yards on their first three offensive possessions.

But the Raiders, too, were held in check by the hosts during that same span.

Milton Hershey finally broke the ice with just under a minute left in the opening quarter when quarterback Shamon Walker broke free for a 61-yard touchdown run. The period ended with the Spartans leading 7-0.
---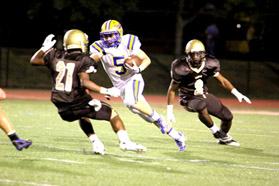 Middletown running back Josh Matinchek (5) maneuvers through the Milton Hershey defense.After running one play to finish off the first quarter, the Raiders put together a determined offensive march that burned 9:30 off the second period clock and ended with a tying touchdown. Quarterback Nathan Ocker connected with Josh Matinchek on a 17-yard pass on the first play and the Raiders shook off a penalty by running the ball right at the Milton Hershey defense on eight straight plays. With linemen Caleb Leggore, Nick Drawbaugh, Newton, Mitch Ward, Tommy Staker and tight end Colton Smith leading the way, running backs Chris Holloman and Matinchek helped get Middletown to the Milton Hershey 16-yard line.

Overcoming another penalty that backed them up to the 30, the Raiders kept moving forward.

Freshman Jaelen Thompson ran for 7 yards, then followed it with a 20-yard catch-and-run to give the Raiders a first-and-goal at the 5. Three plays later, Ocker scored on a 1-yard sneak. Josh Alcock's PAT tied the score, 7-7.

The Raiders hoped to keep the game deadlocked heading into halftime, but the Spartans answered with a 65-yard scoring drive that ended with a 1-yard run by Walker with just 27 seconds left in the first half.

Getting the ball to start the second half, the Raiders needed to put together another good drive, but were forced to start from their own 8-yard line following the kickoff. Still, the team picked up 24 yards on three plays before a holding penalty hurt the momentum, and Mel Fager was forced to punt four plays later.

After an exchange of punts, the Spartan offense was back on the field with 5:21 left in the third. Another big play, this time a 44-yard pass from Walker to Kevin Wiggins with 2:37 left in the quarter, gave the hosts a 21-7 cushion.

The Raiders were still in the hunt, but committed the first of three crucial turnovers soon afterward. The Spartans recovered a Middletown fumble at the 46 with just under two minutes left in the third. Fager, Cain and Ward, along with their defensive teammates, tried to keep the Spartans from cashing in on the turnover, but Milton Hershey capped the march with a short touchdown pass from Walker to Justin Highter at the 9:37 mark to make it a 28-7 game.

Disaster struck again quickly when the Raiders fumbled the ensuing kickoff and the Spartans recovered at the Middletown 25-yard line. One play, a 25-yard touchdown run by Quasif Shabazz, pushed the Raiders into a 35-7 hole with 9:23 left.

The mistake that really put the icing on the win for the Spartans came on the second play following the Spartans' kickoff. Milton Hershey's Chris Santanna intercepted a Middletown pass and streaked into the end zone at the 8:23 mark, giving the hosts an unbeatable 42-7 lead.

But the Raiders did not quit, and came back with a mistake-free drive for their second touchdown. Staying on the ground, Middletown went 59 yards in nine plays for the score. Holloman carried six times for 38 yards, Thompson had a 10-yard run and Matinchek ran twice for 11 yards, including a 5-yard scoring run with 3:08 left. Alcock added the kick for the 14th point.

The Spartans were able to run out the remaining time, however, to keep the Raiders from getting another opportunity to score again. {jcomments on}
Comments