Unstoppable: Falcons dominate second half, eliminate Trojans, 21-3
Posted 11/12/13
Face Exeter in second round of playoffs
Substitute quarterback Jason Shellenberger (8) weaves 6 yards through the Chambersburg defense and into the end zone to give the Falcons a 21-3 lead in the fourth quarteA slow start and an …
Unstoppable: Falcons dominate second half, eliminate Trojans, 21-3
Posted
Face Exeter in second round of playoffs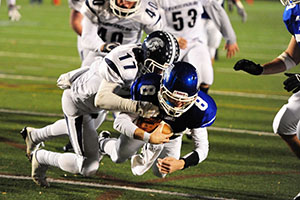 Substitute quarterback Jason Shellenberger (8) weaves 6 yards through the Chambersburg defense and into the end zone to give the Falcons a 21-3 lead in the fourth quarteA slow start and an untimely injury are the last things a football team wants to contend with come playoff time.

Despite those potential setbacks, Lower Dauphin rode the legs of running back Dalton Yentsch to a 21-3 come-from-behind victory over Chambersburg in a PIAA District 3 first round playoff game on Friday, Nov. 8 at Hersheypark Stadium.

Lower Dauphin, the tournament's No. 4 seed, took control in the third quarter, running 20 offensive plays and holding the ball for more than 10 minutes.

The Falcons' defense came up big when Yentsch recovered a Jamal Pickett fumble on Chambersburg's first play of the third quarter. Yentsch, a two-way player, converted a crucial fourth-and-1 on offense before scoring from 1 yard out on Lower Dauphin's ensuing possession that gave the Falcons a double-digit lead.

"We need to control the tempo of games and that was our goal on that first drive of the second half," said LD Coach Rob Klock. "Even though we didn't get any points out of it, we started to dominate up front. After the quick turnover, we were able to continue doing the same thing and use our power game to move the ball and eat clock."

For the game, Yentsch carried the ball 28 times for 194 yards and two touchdowns. The senior's initial score put the home team on the board early in the second quarter.{jcomments on}