Try and stop me: LD ground attack flattens Wildcats, 35-0
Posted 10/1/13
QB Spencer runs for career-high 278 yards, three touchdowns in rompLower Dauphin and Mechanicsburg was a highly anticipated matchup pitting the 4-0 Falcons against their 3-1 Mid-Penn Conference Keystone Division foes from across the river …
Try and stop me: LD ground attack flattens Wildcats, 35-0
Posted
QB Spencer runs for career-high 278 yards, three touchdowns in romp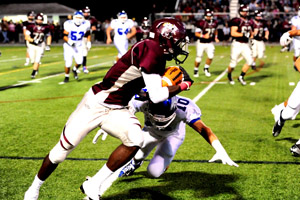 Lower Dauphin and Mechanicsburg was a highly anticipated matchup pitting the 4-0 Falcons against their 3-1 Mid-Penn Conference Keystone Division foes from across the river on Friday, Sept. 27.

Unfortunately for those Wildcat fans looking forward to a tightly contested Homecoming game, their squad ran into a buzz saw in the form of LD quarterback Troy Spencer.

The senior signal-caller was nearly unstoppable all night long, rushing for a career-high 278 yards and three touchdowns in the Falcons' 35-0 rout.


You can read the full story in our printed edition or our e-Edition.
Comments