The deer magnet mystique: Woods and Waters
Posted 1/20/17
From left to right are Skip Myers, Seth Myers, Dan Hocker and Tom Shank. Joe Yeats took the photo.
Thinking back through the years, I can remember a friend of mine who hunted well into his senior years. His name was Paul Whittle of Highspire. …
The deer magnet mystique: Woods and Waters
Posted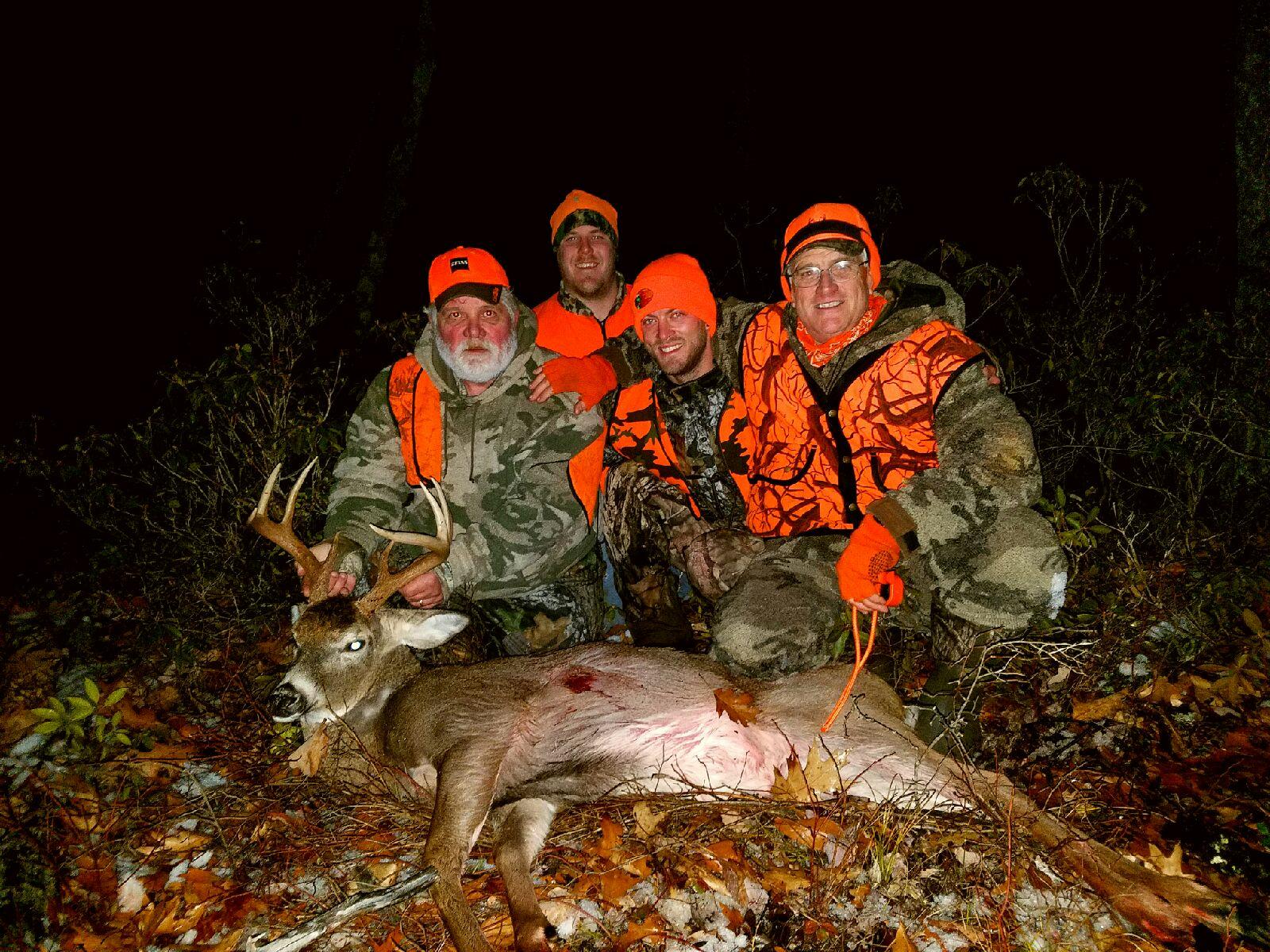 From left to right are Skip Myers, Seth Myers, Dan Hocker and Tom Shank. Joe Yeats took the photo.
Thinking back through the years, I can remember a friend of mine who hunted well into his senior years. His name was Paul Whittle of Highspire. Paul was an avid hunter and fisherman. As youngsters, we looked up to Paul and loved spending time in his garage, which he eventually converted into a small sporting goods store.
Paul had the knowledge and skills for hunting and fishing. Sitting there swapping stories was always something special. Many an evening, I along with other friends would spend hours talking about hunting and fishing. Paul had many stories, but one in particular I have never forgotten.
Paul decided to drive up to Stony Creek Valley on the first day. Most hunters would have been on stand, many hours before daylight, but not Paul. He waited to later in the morning to leave.
His legs and physical condition didn't allow much hiking, so he took deer hunting his way. At least he was outside, doing what he loved to do. He drove to a location along Stony Creek, on State Game Lands No. 211. Expectations were not high for Paul. Deer harvests were coming far less frequently than during his prime hunting years.
On that day, Paul was what I refer to as a "deer magnet." Call it luck, chance or just unexplainable. Sometimes deer just show up to a hunter. Against all reasoning and beyond belief, only a short distance from where he had parked his vehicle appeared a trophy buck. A well-placed shot put the deer down. On that day, Paul was a deer magnet.
Now many years later, on Dec. 5, 2016, around 4:20 p.m. in the woods of Lycoming County, another "deer magnet" story was to unravel, and it involved my good friend Skip Myers of Middletown.
The second week of the deer rifle season began with a group of five hunters from the Middletown and York areas, taking on the big woods of north central Pennsylvania. The group consisted of Skip, his son Seth, Dan Hocker, Joe Yeats and me.
The morning began with small deer drives attempting to push deer toward prepositioned standers. Our drives took their toll on both young and old and by noon, we were all tired and tuckered out.
My nephew, Dan Hocker, managed a doe from the morning hunt and with that we were elated.
Everyone decided to go to different locations to sit and stationary or "pot" hunt the afternoon. Everyone had a special spot picked out, except Skip. He just couldn't make up his mind.
Finally, he left to hunt a spot where his son Seth and Joe had seen bucks earlier in the year. Skip got into his truck and went to a grass-covered gas line. He walked several hundred yards along the gas line and picked out a spot that had several stumps lying about as a result of the gas line being cleared. He carried with him a chair and a shooting stick.
Absent from his equipment was a knife, rope and flashlight. Why take any of those since he didn't expect to shoot anything in the first place?. He was just going to take in the mountain air and enjoy the two hours on stand.
Well, suddenly below Skip at about 100 yards, the shape of a deer emerged. Immediately, he could tell it was a buck and upon further examination, with his scope, he verified it was a "shooter." Skip centered the crosshairs on the buck's chest and pulled the trigger of his 300 Weatherby Magnum. The shot echoed down the mountain side and the deer bolted low to the ground across the gas line and out of sight.
Some doubt came in and without a flashlight and other equipment, he left to get our help.
Help was rounded up after all hunters returned from the evening hunt. Skip kept shaking his head and couldn't believe such a buck came out and offered him such a shot. He even told us that in his mind, he wished a buck would come out at that very spot and it did.
The recovery of the buck only took a short time. Skip's shot was right in the vitals and with snow-covered ground the blood trail was excellent.
The buck traveled less than 50 yards and succumbed. Skip experienced the "deer magnet mystique."
It was meant to be that evening for Skip. Expecting nothing and being prepared for nothing, the unexpected became reality.
Hunting at times can bring forth unexplainable events for some. Call it what you want, but our hunting group calls it being a deer magnet and sometimes it grants its mystic power to those not expecting it.
Tom Shank has been writing Woods and Water for the Press And Journal for nine years. His expertise has been gained through 50 years plus hunting, fishing, trapping and exploring the full gamut of nature. The Susquehanna River and his cabin in Lycoming County are his true loves. Woods and Water is his playground in life, and to write about it for the Press And Journal is a dream come true.