SPORTS PREVIEW: Raiders step up through snowy scourge
Posted 3/25/14
With the racket-wielding Blue Raiders of Middletown's boys' tennis team, the 2014 season is all at once new beginnings and business as usual.While six out of last year's seven letter winners are returning, schedule constraints …
SPORTS PREVIEW: Raiders step up through snowy scourge
Posted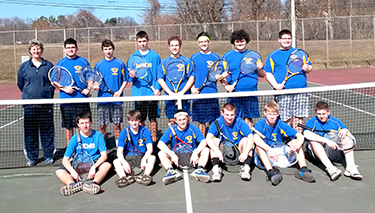 With the racket-wielding Blue Raiders of Middletown's boys' tennis team, the 2014 season is all at once new beginnings and business as usual.

While six out of last year's seven letter winners are returning, schedule constraints forced longtime coach Bill Fair to hand the reins to a new leader.
For the full story, more SPORTS PREVIEW, and season schedules CLICK HERE to subscribe to the Press And Journal.
Comments