Rollers fight off Panthers in OT, 21-14
Posted 10/1/13
Steelton-Highspire Coach Tom Hailey never questioned his team's physical strength – it was the mental toughness he was worried about. But when the East Pennsboro Panthers forged a second-half comeback to force overtime on the …
Rollers fight off Panthers in OT, 21-14
Posted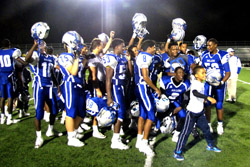 Steelton-Highspire Coach Tom Hailey never questioned his team's physical strength – it was the mental toughness he was worried about.

But when the East Pennsboro Panthers forged a second-half comeback to force overtime on the Rollers' home turf on Friday, Sept. 27, Steelton-Highspire responded, scoring on their first overtime possession and forcing three straight East Pennsboro incompletions to win the game 21-14 and keep their undefeated season alive.

"That's the way to battle, not to quit," Hailey told his team after the game. "The mental thing is what I'm looking for, and I'm starting to see it."

Quarterback James Warren led the way for the Steelton-Highspire offense, passing for 114 yards while scampering for two touchdowns and 54 yards rushing.


You can read the full story in our printed edition or our e-Edition.
Comments