Rollers breeze past Milton Hershey 40-6
Posted 10/29/13
Press And Journal Photo by Noelle Barrett Steelton-Highspire's Tyquan Walker (29) blasts through the Milton Hershey defense.With Steelton-Highspire and Milton Hershey holding the top spots in the Mid-Penn Conference Capital Division, …
Rollers breeze past Milton Hershey 40-6
Posted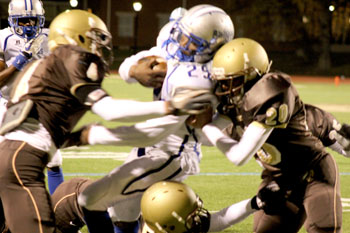 Press And Journal Photo by Noelle Barrett Steelton-Highspire's Tyquan Walker (29) blasts through the Milton Hershey defense.With Steelton-Highspire and Milton Hershey holding the top spots in the Mid-Penn Conference Capital Division, there was a lot of chatter before they faced off on the Spartans' turf on Friday, Oct. 25.

Spectators filled the stands expecting a battle. What they got was a firsthand view of the Rollers breezing past the Spartans 40-6, handing Milton Hershey its first conference loss.

The Rollers made it look easy, and the win definitely made a statement in more ways than one.

It's not unusual for the Rollers to outscore their opponents by double digits, so when Steelton-Highspire tallied four touchdowns in the first half, there was plenty of glory and praise for the offensive line.

But there was another set of stars on that field, or rather, a quiet force to be reckoned with—the Rollers' defense.

You can read the full story in our printed edition or our e-Edition.

Comments