Raiders top Palmyra, CD East; suffer first loss in Wildcat comeback
Posted 4/8/14
Middletown notched two big victories and suffered its first loss of the season last week thanks to a late-inning meltdown against Mechanicsburg, a rival in the Mid-Penn Conference Keystone Division.Photo by Don Graham - Middletown's …
Raiders top Palmyra, CD East; suffer first loss in Wildcat comeback
Posted
Middletown notched two big victories and suffered its first loss of the season last week thanks to a late-inning meltdown against Mechanicsburg, a rival in the Mid-Penn Conference Keystone Division.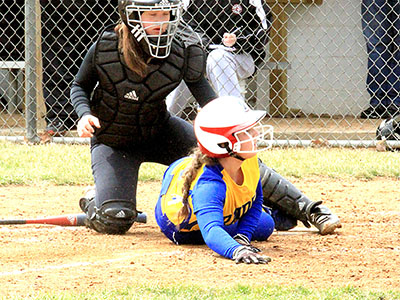 Photo by Don Graham - Middletown's Gabby Krupilis, slides into home plate to score a run against Central Dauphin East. The Blue Raiders outlasted CD East, 18-9.
The Blue Raiders (3-1, 1-1 in the division) subdued Palmyra, 10-2, with starting pitcher Sarah Gossard holding the Cougars to just four hits, and walloped Central Dauphin East, 18-9, in a game rescheduled because of inclement weather.
Middletown held 6-0 lead against powerful Mechanicsburg in its only home game of the week, then watched as the Wildcats came from behind with 16 runs in the final two innings for the victory.
For the full story, CLICK HERE to subscribe to the Press And Journal.
Comments