Raiders searching for new leaders
Posted 8/28/12
By Greg Pickel Press And Journal Staff After losing to Fleetwood in the District 3 playoffs a season ago, the Middletown boys' soccer team lost a number of players to graduation. In need of a goalkeeper and a new back line, the Blue Raiders needed …
Raiders searching for new leaders
Posted
By Greg Pickel
Press And Journal Staff
After losing to Fleetwood in the District 3 playoffs a season ago, the Middletown boys' soccer team lost a number of players to graduation. In need of a goalkeeper and a new back line, the Blue Raiders needed to find new leaders quickly this season.
Through two weeks of practice, head coach Tim Neff believes some are emerging.
"Some of the upperclassmen have stepped up into their roles, and some will start to insert themselves now that we have a scrimmage under our belts," said Neff.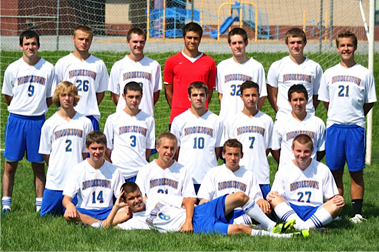 After tying Shippensburg, 2-2, Middletown beat Susquenita, 3-2 in a double-header scrimmage after their first week of practice, and now the challenge for Neff will be finding depth in a program that has lost 25 players to graduation over the last two years, including 12 from a season ago.
"We need to find who will fill in-depth roles at this point, because losing 12 seniors is never ideal," said Neff.
Christian Roberts will take on the goalkeeping duties for Middletown after playing spot varsity minutes a year ago and a full junior-varsity slate, and a new crop of defenders – some with varsity experience – will take over for a fully graduated back line.
"Christian is doing well – he's getting more comfortable and vocal back there, and more willing to take charge," said Neff.
As for the back line, four players have stood out so far, but there is room for others to step up, according to Neff.
"Brendan Leahy, Eric Mosher, Alex Mosher and D.J. Brinton are the guys that have seen a lot of minutes so far, but that is one of the positions we are looking for depth at, so it continues to be something we improve on every day," he said.
As for attacking, the Blue Raiders graduated a large chunk of their scoring, but a few players that earned varsity letters a season ago are back in the mix, and some younger players are likely to step up as well.
"Right now, it looks like Colton Whitener and Kyle Shields will secure us in the mid-field, and now it's about finding the right pieces on the wings and up top," said Neff.
Fortunately, he has plenty of seasoned options. Ricky Fox, Dan Matter, Cameron Dickerson and Eddie Arnold all saw a chunk of time next season.
"All of these guys saw minutes, and Ricky Fox started the second half of the season, so now it's about getting these guys used to more prominent roles," said Neff.
Change will be the trend around the Mid-Penn Conference's Keystone Division this season, something Neff hopes works in the Blue Raiders' favor.
"The way it looks now, no one is going to run away with the division," said Neff. "I believe we are on par with the rest of the teams we will play, and it all starts with a good nonconference start early in the season."
Comments