Raiders hit well, but drop two
Posted 4/9/13
Hitting couldn't prevent Middletown from dropping two games last week against Keystone Division rivals.
Raiders hit well, but drop two
Posted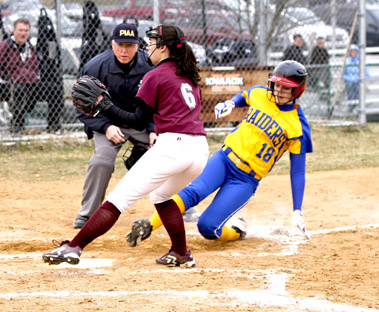 Photos by Phil Hrobak Middletown's Emily Mattes avoids a tag and slides safely into home plate against Mechanicsburg.The Blue Raiders committed seven errors in a 14-11 loss to Palmyra at home on Tuesday, April 2.
The Cougars (4-1) grabbed a 9-0 lead with four runs in the first and five in the second. Middletown (1-3) trailed 14-5 after five innings before staging a late-inning rally that fell short.
The Raiders scored five runs in the seventh to scare Palmyra.
Middletown pitcher Sarah Gossard hit a two-run home run in the fifth.
The Raiders fell to Mechanicsburg, 11-7, on the road Thursday, April 4. The Wildcats (5-0) exploded for nine runs in the second, with Erica Molovich providing the lethal blast – a grand slam that erased a 3-0 Raider lead.
Middletown committed three errors in the game, while Mechanicsburg played errorless softball.
Comments