Raiders fall to East Pennsboro on errors, walks
Posted 4/1/14
Middletown punched out nine hits but, once again, the Blue Raiders were hampered by errors and unearned runs in a 4-3 baseball loss to visiting East Pennsboro on Thursday, March 27.Photo by Jodi Ocker - Middletown's Cody Fox (5) takes a swing at …
Raiders fall to East Pennsboro on errors, walks
Posted
Middletown punched out nine hits but, once again, the Blue Raiders were hampered by errors and unearned runs in a 4-3 baseball loss to visiting East Pennsboro on Thursday, March 27.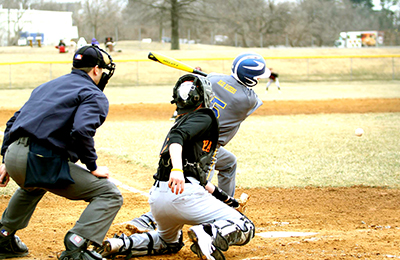 Photo by Jodi Ocker - Middletown's Cody Fox (5) takes a swing at an East Pennsboro pitch.
Although the Panthers produced just one hit against Middletown pitching, East Pennsboro took advantage of several walks and a couple fielding miscues to rally from an early 2-0 deficit for the win.
And despite the high number of hits by the Middletown batters, the Raiders (0-2) let several scoring chances get away during the course of the non-divisional contest on a cold, windy afternoon. In all, nine runners were left on base.
Comments