Raiders celebrate a winning season
Posted 11/26/13
Middletown Area High School's running back Josh Matinchek and defender Nick Drawbaugh won awards during the Raider Club's annual season-ending banquet on Sunday, Nov. 17 at St. Peter's Evangelical Lutheran Church, Middletown. …
Raiders celebrate a winning season
Posted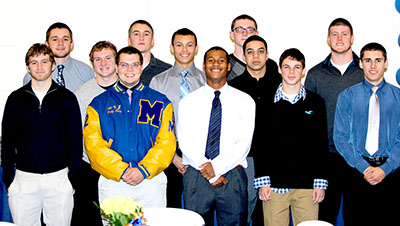 Middletown Area High School's running back Josh Matinchek and defender Nick Drawbaugh won awards during the Raider Club's annual season-ending banquet on Sunday, Nov. 17 at St. Peter's Evangelical Lutheran Church, Middletown.

Left, seniors on the Middletown football team, honored during a year-end banquet that celebrated the Blue Raiders' winning season, are: back row, from left, Melvin Fager III, Steven Cain, Colton Smith, and Nick Drawbaugh; middle row, Levi Vamer, Aaron Gray, and Seth Babil; front row, Josh Matinchek, Cody Lutz, Chris Holloman, Andrew Rowe and Jeremy Shaver. Photo by Jodi Ocker.

You can read the full story in our printed edition or our e-Edition.