Raider girls tie Panthers, 75-75
Posted 4/29/14
After all the running, the throws, the jumps, and every other event in track and field, the Middletown Area girls found themselves the recipients of an unusual tie against East Pennsboro.Photo by Jodi Ocker - Middletown's Jeremy Shaver, left, …
Raider girls tie Panthers, 75-75
Posted
After all the running, the throws, the jumps, and every other event in track and field, the Middletown Area girls found themselves the recipients of an unusual tie against East Pennsboro.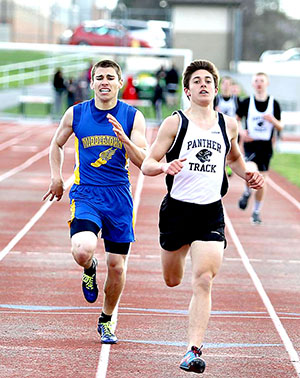 Photo by Jodi Ocker - Middletown's Jeremy Shaver, left, dashes to the finish line against a runner from East Pennsboro in the 1 mile run.
The Blue Raiders and Panthers recorded a 75-75 tie in a meet on Wednesday, April 23 at East Pennsboro.
The boys' track and field team lost a close contest to East Pennsboro, 80-70.
Comments