Patricia Barge
Posted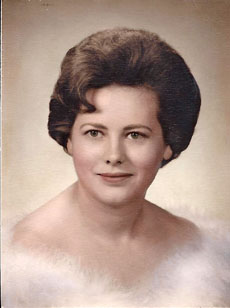 Patty was born on October 2, 1935 in Saxton, and was the daughter of the late Fred F. and Irma Treece Tenley.

She was a graduate of the former Middletown High School class of 1955. In the late 1950s she rode on the Dauphin County Bookmobile. She was a librarian for McCormick Library, Harrisburg, Kline Village Library, and the Middletown Public Library. Patty was a member of Middletown First Church of God, and a former member of the church choir. She had a beautiful soprano voice and loved to sing.

She was a wonderful wife, mother and grandmother. Patty was an excellent cook and baker and reader of books, especially for children. Her greatest joy was spending time with her family, especially her grandchildren.

In addition to her parents, she was preceded in death by her loving husband Charles F. Barge on May 28, 2006, and two sisters Mary Carol Smith and Shirley Hiquet.

She is survived by her daughter Carol T., wife of Joseph A. Nye of Hummelstown; stepchildren Dennis G. (Christy) Barge of Pillow, Sandra L. Renninger of Hegins, Steven C. (Barbara) Barge of Hegins; two grandsons Joseph and James; seven stepgrandchildren; six stepgreat-grandchildren; sister Sandra L. (James) Smith of James Creek; and brother Fred F. Tenley Jr. of Middletown.

A Tribute to her life will be held at 11 a.m. on Friday, October 18, at her church, 245 W. High St., Middletown, with the Rev. Kimberly Shifler and the Rev. Randall Bistline officiating.

Burial will be in Middletown Cemetery.

Viewing will be from 10 a.m. until time of service on Friday at the church.

Memorial contributions in Patricia's name may be made to the Middletown First Church of God, 245 W. High St., Middletown, PA 17057, or the Middletown Public Library, 20 N. Catherine St., Middletown, PA 17057.

Arrangements by Frank E. Matinchek and Daughter Funeral Home and Cremation Services, Inc., Middletown.

Condolences may be sent online at www.matinchekanddaughterfuneralhome.com.