Palmyra tops Raiders on controversial goal
Posted 10/22/13
Palmyra returned to Middletown on Monday, Oct. 14 to finish a game halted by rain in the 30th minute on Thursday, Oct. 10. Eddie Arnold, the Blue Raiders' leading scorer, pushed through two defenders on a strong challenge and …
Palmyra tops Raiders on controversial goal
Posted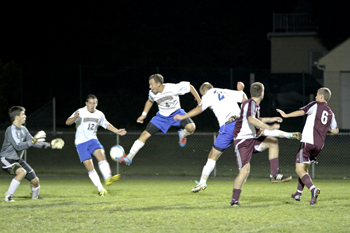 Palmyra returned to Middletown on Monday, Oct. 14 to finish a game halted by rain in the 30th minute on Thursday, Oct. 10. Eddie Arnold, the Blue Raiders' leading scorer, pushed through two defenders on a strong challenge and scored the tying goal just five minutes into the restarted game.


By intermission, the game remained tied, 1-1.
You can read the full story in our printed edition or our e-Edition .
Comments