ON A ROLL: Raiders beat Hershey, McDevitt; drop extra-inning thriller to Indians
Posted 4/15/14
There is a character on one of television's reality shows who talks about the "Wow Factor." The Middletown varsity baseball team experienced its own wow factor last week in victories over Hershey and Bishop McDevitt.Photo by Jodi Ocker - …
ON A ROLL: Raiders beat Hershey, McDevitt; drop extra-inning thriller to Indians
Posted
There is a character on one of television's reality shows who talks about the "Wow Factor." The Middletown varsity baseball team experienced its own wow factor last week in victories over Hershey and Bishop McDevitt.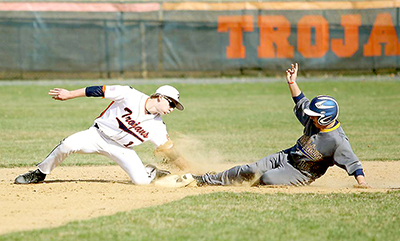 Photo by Jodi Ocker - Middletown baserunner Eddie Arnold steals second against Hershey.
And although the Blue Raiders lost at Susquehanna Twp. on Saturday, that game, too, had its ''wow'' moments.
With spring rains disrupting the flow of regularly-scheduled games early in the week, the Raiders had to play three straight contests on Thursday, April 10; Friday, April 11; and Saturday, April 12 in an attempt to catch up. But what a three-game stretch it turned out to be.
For the full story, CLICK HERE to subscribe to the Press And Journal.
Comments