Middletown's playoff hopes take a hit
Posted 2/4/14
Photo by Bill Darrah -Middletown's Brandon Harper (20) rejects a shot by a Steelton-Highspire player. Losses to Rollers, York Suburban damage Raiders' postseason dreams
Middletown tops Susquenita for Senior Night victory
Any …
Middletown's playoff hopes take a hit
Posted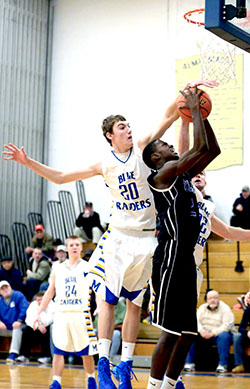 Photo by Bill Darrah -Middletown's Brandon Harper (20) rejects a shot by a Steelton-Highspire player. Losses to Rollers, York Suburban damage Raiders' postseason dreams


Middletown tops Susquenita for Senior Night victory


Any hopes the Middletown boys' basketball team had of making the District 3 playoffs faded away last week as the Blue Raiders won just one of their three games.
Following a loss on Tuesday, Jan. 28 to Steelton-Highspire, the Raiders bounced back with a nice victory over Susquenita on Friday, Jan. 31. But Middletown fell back a step on Saturday, Feb. 1 in a non-league loss to York Suburban.


The win left the Raiders (9-11, 7-7 in the Mid-Penn Conference Capital Division) well short of the goal of 12 victories that Coach Chris Sattele felt his team would need to qualify for postseason play.


The season was scheduled to wrap up this week with a non-divisional contest at Central Dauphin East on Tuesday, Feb. 4 and a final game against Greencastle-Antrim, another non-divisional foe, on Thursday, Feb. 6. That game will be played at the Middletown Area Middle School.


Still, a pair of wins in the final two games would end the season on a positive note for the Raiders.
For the full story, CLICK HERE to subscribe to the Press And Journal.
Comments