Middletown boys have numbers, girls have experienced runners
Posted 8/28/12
By Jim Lewis Press And Journal Staff There weren't enough runners to field a cross country team at Middletown last season – you need at least five boys and five girls – but this year, a surprising number of boys showed up for the first …
Middletown boys have numbers, girls have experienced runners
Posted
By Jim Lewis
Press And Journal Staff
There weren't enough runners to field a cross country team at Middletown last season – you need at least five boys and five girls – but this year, a surprising number of boys showed up for the first practice.
Eleven boys joined the team, to run for a variety of reasons. Some are dedicated distance runners. Some are members of the wrestling team who simply want to keep in shape during the off-season.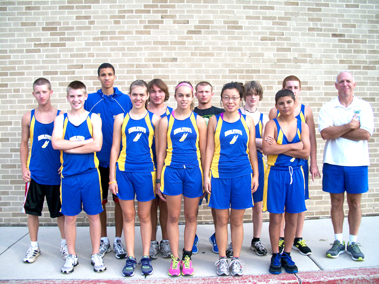 Most had never run a long distance before.
So when pressed to assess his team's chances of finishing a 3.1-mile course – any course – under 19 minutes, the time runners need to qualify for the District 3 championship race at the end of the season, Coach Llewellyn "Lew'' Skees answers bluntly, "It's going to be a really tough road for some of them.''
"I really don't know who's going to be my stars, and who isn't,'' said Skees. "It's kind of too early to tell right now. A lot of new faces, people who didn't run before. A lot of inexperience.''
But on the bright side, ''We do have numbers,'' he said.
So the boys won't be forced to automatically forfeit every meet during the regular season. The boys should be led by Zack Buell, their strongest runner, though a preseason injury has Skees worried about his season.
Middletown has only four girls on the team, but two of them are strong runners who qualified for the District 3 championships last season.
Megan Martz, a junior, has recorded good times in past meets, and should qualify for the championships this season – even though Middletown has moved up from Class AA last year to Class AAA this year, Skees predicted. Last year, Martz had to finish a course under 25 minutes to qualify for the championship race; this year, because of the higher classification, she must beat 23 minutes.
Sophomore Julia Trout also could qualify this year, said Skees.
After Skees' top three runners, "there are a lot of other kids in the pack,'' he said.