Lion tamers: Falcons bats, rain deluge State College, 12-1
Posted 6/11/13
LD dominates, moves to PIAA semifinals
Lower Dauphin pitcher Marshal Kiessling was coming off a performance for the ages in his last start, a dramatic 1-0 win in the District 3 Class AAAA championship game. In his encore performance, …
Lion tamers: Falcons bats, rain deluge State College, 12-1
Posted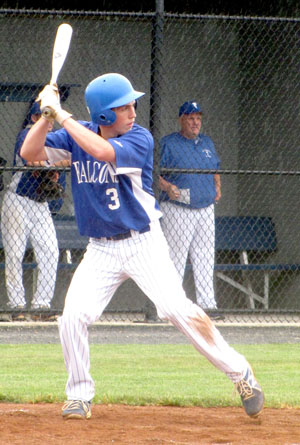 Photos by Daniel Walmer Lower Dauphin third baseman Blair Lewis sparked the Falcon offense with a first-inning hit. LD led 7-0 after just two innings.The Falcons flew to an early 9-0 lead and cruised to a rain-soaked and mercy rule-shortened 12-1 win against State College on Thursday, June 6 at Greene Twp. Park near Chambersburg.
Coach Ken Kulina was particularly happy for his seniors, who graduated the same day.
"This will be a day that they remember: They won a baseball game, and they're graduating," Kulina said. "At this point in the season, we're just excited to play another day."
Lower Dauphin (21-5-1), the District 3 champs, was scheduled to face District 7 champ North Allegheny in a state semifinal game on Tuesday, June 11 in Somerset. If the Falcons won that game, they were scheduled to play in the championship game Friday, June 14 in State College.
Two things never ceased during the Falcons' showdown with State College: The persistent drizzle and the endless parade of Lower Dauphin batters jogging to first after a walk or hit batter.
The trouble began early for the Little Lions, as they allowed 7 runs on just four hits in their nightmarish first and second innings.
Six walks, two hit batsmen and two State College errors helped Lower Dauphin's cause, but the Falcons did have some important hits as well. Third baseman Blair Lewis got the game's first big hit in the first inning, and Corey Atkins belted a two-run single in the second to highlight a 5-run inning that gave Lower Dauphin a 7-0 lead.
---
Lower Dauphin picked up right where they left off in the top of the third, as Kaylor Kulina crushed a triple to deep right field. Catcher Deon Stafford then sliced an RBI double to right field and scored on a clutch two-out single by Atkins, ballooning the lead to 9-0.
Clearly, the State College pitchers were struggling – the Little Lions would use four different hurlers in five innings in a futile attempt to find the strike zone – but Ken Kulina credited his offense for its patience and timely hitting.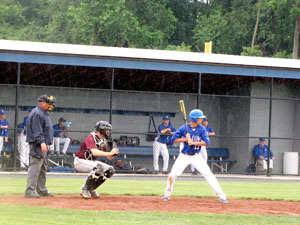 Press And Journal Photo by Daniel Walmer Lower Dauphin centerfielder Jeff Light (13) awaits a State College pitch in the Falcons' 12-1 quarterfinal victory."I was happy for our guys to wait them out, and get some walks and some hits when we needed them," he said.
Meanwhile, Kiessling was once again masterful on the mound, allowing just 1 run in five innings of work. The Little Lions did make some noise in the bottom of the third, scoring a run to cut the lead to 9-1 and loading the bases with just one out. But after a mound visit from his coach, Kiessling settled down, retiring the next two hitters to work his way out of the jam.
While the victory already seemed secure, the Falcons would tack on a couple of insurance runs in the fourth and fifth innings.
Centerfielder Jeff Light walked to begin the fourth inning and scored on a Kiessling groundout to gain back the run the Falcons had lost in the third.
Control problems surfaced for State College yet again in the fifth, as a walk and two hit batsmen loaded the bases with no outs. Light connected for an RBI single, and Aaron Kline walked with the bases loaded to force home a run, creating the final score of 12-1.
The umpires ended the game after five innings – the second time Lower Dauphin had won a rain-shortened game this postseason. But unlike the Falcons' previous rain-shortened win against Warwick, the outcome of this game was never in doubt.
Daniel Walmer: 717-944-4628, or danielwalmer@pressandjournal.com
Comments