LD's "Front" examines feelings about war
Posted 11/12/13
Press And Journal Photo by Noelle Barrett The cast of "Front," a play examining feelings about war, at Lower Dauphin High Schol.War – it's something many Americans have experienced. For many veterans and men and women serving in …
LD's "Front" examines feelings about war
Posted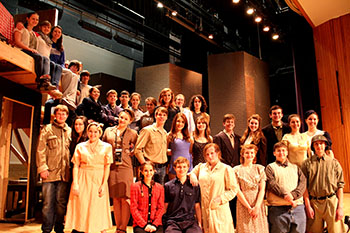 Press And Journal Photo by Noelle Barrett The cast of "Front," a play examining feelings about war, at Lower Dauphin High Schol.War – it's something many Americans have experienced. For many veterans and men and women serving in the military, the pain of war is real.

But the pain touches more people than those who served on the front lines of battle and those that leave home to protect their families. What about the families that are left behind?

It's a question students at Lower Dauphin High School hope to address in their performance of the play "Front.''

"Front,'' a play in two acts by Robert Caisley, features the stories of several individuals and families who come to terms with war. While the play is set in England during the German Blitz of World War II, the themes are timeless.

A lot of plays, movies and novels portray World War II from the point of view of the men on the front lines, but "Front'' is shown through the lens of lower- and middle-class women, said Douglas Grove, the play's director.

"That approach seemed unique to me," Grove said. " 'Front' shows how regular London housewives dealt with the bombings, their families, their departing husbands and their own beliefs as to war."

"Front'' will be performed at 7 p.m. Thursday, Nov. 14 through Saturday, Nov. 16 at the high school.

You can read the full story in our printed edition or our e-Edition.