Kathryn Smith
Posted
Kathryn N. Hooper Smith, 99, of Masonic Village, Elizabethtown, entered into eternal rest on Monday, May 26, at LifeCare of Mechanicsburg.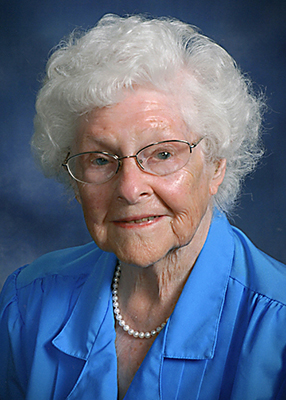 Known by her friends as "Kay" or "Kitty," she grew up, went to college, and lived through her 30s in Huntingdon, moving to Altoona after marriage to Clark Smith of Forest Lake, Minn. She was an employee in the ticket office of the Pennsylvania Railroad in Huntingdon and then Altoona during the war years and after. She was also a substitute teacher in the public schools of Huntingdon and Middletown.
She and her young family moved to Middletown and resided there until her husband's death in 2005. She then moved to the Masonic Village in Elizabethtown.
She graduated from Juniata College. She was a lifetime member of the Presbyterian Church (Huntingdon, Altoona, and Middletown), a Sunday school teacher and devoted volunteer in her church and a Girl Scout volunteer. She was a longtime participant in a Canasta card club in Middletown and Church Circle Member. She enjoyed Masonic activities and family gatherings held for holidays and birthdays of which there were many during her 99 years of living, all making for a lifetime of happiness.
Her father and mother preceded her in death as well as her daughter Janet Shope of Lemoyne, and her two sisters Mary McCarroll, of West Orange, N.J., and Helen Hawn of Huntingdon.
She is survived by three daughters, Carol and husband William Stoffel of Palmyra, Karen Smith of Etters, and Diane Smith of Vienna, Va.; three grandchildren, Autumn and husband Scott Kingsboro of Maytown, Tara and husband Jeff Dorsey of Harrisburg, and Logan Stoffel and wife Tonya of Annville; and four great-grandchildren.
Services were held on Monday at the Middletown Presbyterian Congregation, Union and Water streets, Middletown, with the Reverend Donald Potter officiating.
Burial was on Tuesday, in Riverview Cemetery, Huntingdon.
Memorial contributions can be made in Kathryn's name to Middletown Presbyterian Congregation, Water and Union Streets, Middletown, PA 17057.
The family has entrusted the care of the Matinchek and Daughter Funeral Home, Middletown, to handle the arrangements.
Online condolences can be sent to www.matinchekanddaughterfuneralhome.com.