Joyce Cole
Posted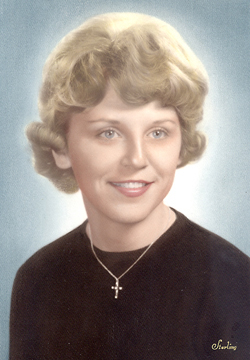 She was born on April 16, 1946 to the late Hugh and Alice O'Donnell.

Joyce, the youngest of three children, was a member of Middletown Area High School Class of 1964, where she was well known for her sense of humor and athleticism. She was a talented homemaker, an avid gardener, and dog breeder. Joyce was active in her community and was past president of the VFW Ladies Auxiliary Post #5667, Elizabethtown, and also volunteered for the Arthritis Foundation, as a DJ, spinning the oldies at community events. She was a loving mother and grandmother who always put her family first.

In addition to her parents, she was preceded in death by her brother Robert O'Donnell of Middletown.

She leaves behind her two loving daughters Laurie Rhodes and husband Greg of Mount Joy, and Debra Boyer and husband James of Middletown; grandsons Bryan Cain and wife Billie May of Mount Wolf, and Ryan Cain of Mount Joy; granddaughter Emily Boyer of Middletown; brother Joseph O'Donnell of Middletown; sister-in-law Evelyn O'Donnell of Middletown; and several nieces, nephews, and cousins.

The family wishes to express special thanks and appreciation to Hospice For All Seasons for their tender care, compassion and love for Joyce.

Donations may be made in memory of Joyce to Hospice For All Seasons, 2741 Paxton St., Suite 200, Harrisburg, PA 17111.

Arrangements by Fred F. Groff Funeral Home, Lancaster.